Hi All,
I have a dilemma. I use a GM200 as my main mount, tracking was more important to me than GOTO when it was purchased.
The issue I have is the grease in the dec housing above the encoder mount has stiffened up this last winter to the point of almost being seized.
I have searched hi and low for info on this and the only information I have been able to come up with has been here on CN and it was a photo spread on how to relube the RA axis.
That's easy peasy but the dec assembly has me stumped. I can get it down to the shaft, locking clamp. and bearing housing but I cannot see how to get to the bearings. On the bottom of the bearing housing, you can see a lock ring with two holes to engage a spanner wrench to loosen it. Figuring I had it made, I loosened it and to my dismay, it is larger in diameter than the hole in the top of the encoder housing. Now I have loose wobbly bearings that I still can't get to.I have attached two photos of the problem beast, I believe the part that has the spanner nut trapped (encoder housing) perhaps unscrews from the main bearing housing?? there is a seam that you can feel where the tapered housing meets the part that has the nut trapped. Any help is apppreciated. the and of the shaft is not splined, that is a 75T 80P gear cut into the end of the dec shaft for the encoder to run on.
Thanks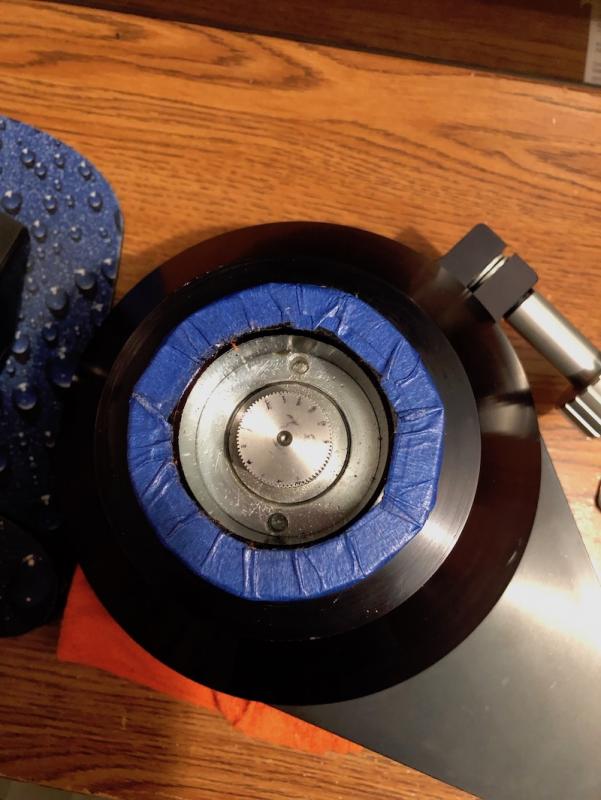 [attachment=1249606:IMG_2284.jpeg