Last weekend had a lot of potential for lunar imaging for us folks in the Northern Hemisphere, with the near First Quarter Moon being at very favorable declinations (over 70 degrees altitude for me). On top of that, I had a clear forecast for the weekend, and the waxing gibbous Moon crosses the meridian at a very convenient time in the evening, which doesn't require any heroic efforts to get up early or stay up late. Unfortunately, the final piece of the puzzle, and the most important, the SEEING, was not appearing to cooperate. The various seeing forecasts ranged from bad to horrible (2" on Meteoblue, and "poor" to "average" on CDS.....not a good sign!!), but I couldn't understand why given the weather patterns in my area, so I decided to tempt fate and image anyway. Luckily, the seeing was better than forecasted on the evening of April 13 (April 14 UTC), although still not the type of seeing we hope for. I would rate it as a solid "4" on the Pickering scale, as observed during collimation on star with my 9.25 inch telescope, with moments of a "5". As has been discussed in other threads, those values, despite being categorized as "poor" to "fair" (depending on the aperture), will actually allow fairly decent imaging. I also imaged on the night of April 12 and April 14, but the 13th appeared to be the best seeing, so I started processing that evening's data first.
Here is the result of a four panel mosaic using my C9.25 Edge HD and ASI183mm camera with a green bandpass filter. You will need to download the full size image from Flickr to see the full resolution, but I will also post some cropped panels of a few select areas below for viewing in the forum. Highlights of this lunar phase include Copernicus located directly on the terminator at sunrise, as well as a number of other popular features near the terminator. Click for full sized images.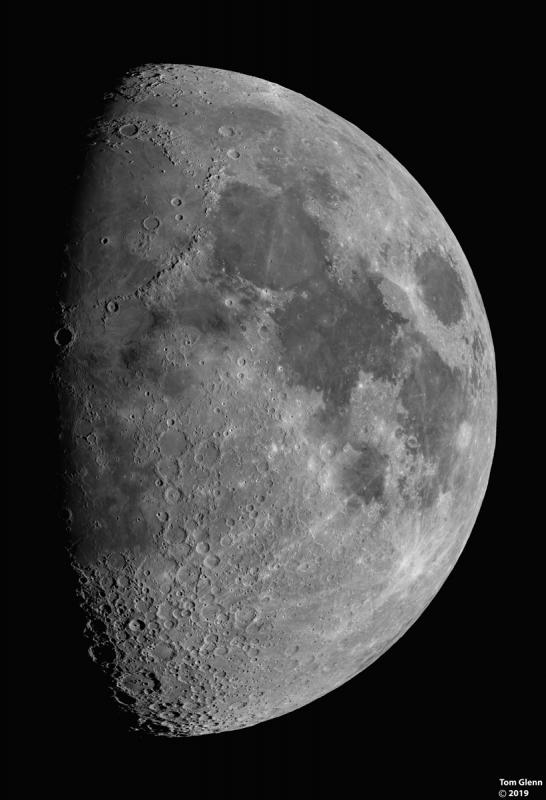 Edited by Tom Glenn, 20 April 2019 - 01:08 AM.