It's here. Assembled and on the mount. No, the A-P 130mm GTX next to it is not a glorified finderscope. I now have a choice of instruments, one tailored for big dim things (refractor) and the other tailored for small bright things (Cassegrain).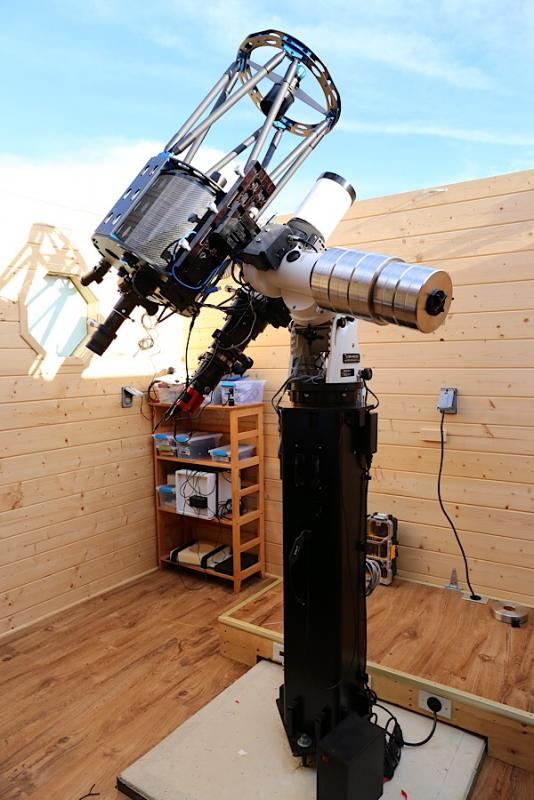 The shipment arrived in two days in excellent condition. It was well packed. The only glitch is that my finderscope holder is fitted for a A-P bracket so I'll need to pick up the normal Baader bracket. Electrical connections (fan, heater) all seem to work normally. The handle on the top of the OTA makes it relatively easy to install it on the mount but I'd still say it is a two-person job. Mechanical fit and finish is superb.
To my surprise -- not knowing if the alignment model still worked or if I was anywhere near proper focus -- we were able to easily "find" Sirius before sunset. Over time, I'll need to better align the two OTAs, though a star centered in the CFF 300 is also in the FOV of the 130mm refractor, albeit not centered.
Since seeing was not at all good at the time, we limited the number of tests. It was also clear that I need to tweak collimation a bit. Here is Propus at about 400x magnification with focuser racked out Collimation will be a job for the next clear night. I'll also need to build a new T-Point model to get more precise GOTOs with the new telescope. Once this is done, I'll send images.
Marty