So I was out the other night for the first time since last summer, just simply testing my gear to make sure everything still worked. And I'm happy to report it did! Always a good feeling

The skies that night were marginal at best and eventually there was an obvious thin layer of clouds overhead. You could still see stars through them just much dimmer. But as I watched the clouds and PHD, my guiding wasn't suffering? My CEM60-EC has always performed very well for me but lousy skies usually force me to shut down PHD and just let the encoder do the work alone. Even with the clouds my star profile was still really good and I just wasn't understanding why. Then I figured it out. I had not taking the Bahtinov Mask off my scope the whole time I was goofing around with the gear.
This leads me to the question... For guiding purposes was the mask helping things? Was this real what I experienced or had I just nailed PA and the mount was just doing its job? It makes me wonder if I want to dump my OAG and go back to my old Borg guide scope and put a mask on it? If it results in better star profiles and more consistent guiding thru less atmospheric disruptions why not?
I'm very curious as to your thoughts on this!
Here is my guiding graph through the clouds... now this is pretty much the normal performance of the mount... but it was thru clouds!
Thanks,
Will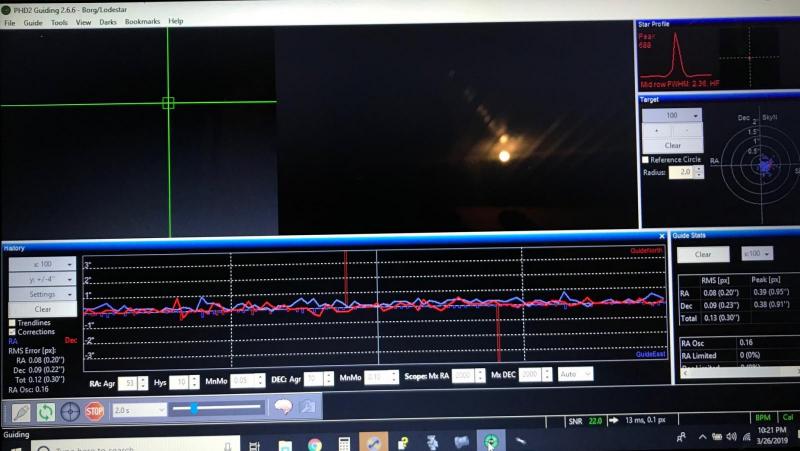 Edited by nxda, 24 April 2019 - 01:09 AM.