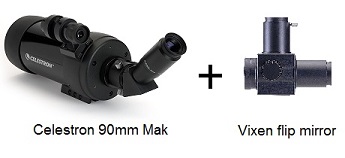 I want to use a Vixen flip mirror with my Celestron Mak 90. I know I need an adapter(s) of some sort.
I've seen some similar posts, but I'm just not familiar enough with astronomy threads, sizes and terminology to make
an educated decision on the correct adapter.
Does anyone have any experience making this work?
1. Celestron "rear cell thread" is 44.5mm (95% confidence rating).
2. Vixen flip mirror states nose piece is: "2-inch threaded barrel that accepts 49 mm filters, 50.8mm"
Thanks for reading, I really appreciate it.
My best guess so far:
http://www.scopestuff.com/ss_smsa.htm