It is difficult to write in words what one person meant to so many. It is with a heavy heart that I write this. Over the weekend of April 27th, 2019 Tom Trusock suddenly passed away. In today's modern age the reach of a person's heart, soul, and mind has no bounds. Tom Trusock was a perfect example of that.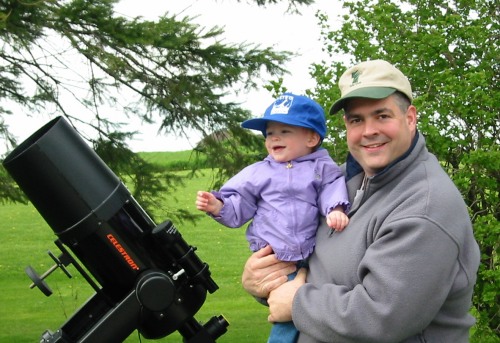 First and foremost, Tom was loving husband to Jennifer and devoted father to his two girls Angela and Sammy. They will need all of our thoughts and prayers through this difficult time.
Secondly, Tom was a teacher. His students in the Bad Axe PSD have already begun to reach out with memories of Tom and what he did for them and how he changed their lives with his love of math.
And for our Astronomical community, Tom was a writer and educator as well. His ability to take products and make them accessible through the written word was his gift to all of us. His love of astronomy and this website was evident in every article he composed.
Tom wrote articles for CloudyNights.com (as well as being one of the first editors of the site), Astronomy Magazine, and various other publications. He usually gave several talks a year at various astronomy events all over North America. Tom was a beacon of light in this community.
It is impossible to put everything Tom Trusock represented in a few paragraphs and words. We all know how Tom touched our lives and enriched the lives of countless others. His family could use our support now in their difficult time, so I have set up a GoFundMe page for them. All donations go to the Trusock family to help with funeral expenses as well as anything else that may arise.
Here is a link to the GoFundMe page.