Since M87 is in the news with the dramatic image of its black hole, and since I've never observed it with my fast 25 inch F2.6, I devoted a few nights to observing.
First, the galactic cirrus or Integrated Flux Nebulae is surprising in that a band goes directly across the galaxy, making the galaxy's faintest outer regions look extended. I see a broader arc just beyond the galaxy and a faint finger just under the galaxy (in the inverted telescopic view).
Secondly, the black hole's jet is quite the observing challenge. The first night was hopeless because seeing was not good enough. The last night seeing improved to where the stars would sharpen nicely for a few seconds then fuzz out again. Trying to see the jet consisted of watching the stars for sharpening then settling in to catch a second or two glimpse before it all fuzzed out again. The jet appeared quite faint and dark gray in color. Quite surprisingly, I saw it disconnected from the galaxy's nucleus. I found proper magnification to be key: too much magnification resulted in no observation presumably because even during the sharp periods, the jet was too fuzzy, and too low of magnification made the jet just too small to see. 320x worked but slightly higher and slightly lower magnifications were not successful. I managed to see the jet several times; this is indeed a difficult observation at the limit of possibility that took me a couple of nights to succeed.
To relax, I scanned the broad area, delighting in every single field of view filled with many galaxies of different morphologies. Richest Field Galaxy Observing at its best!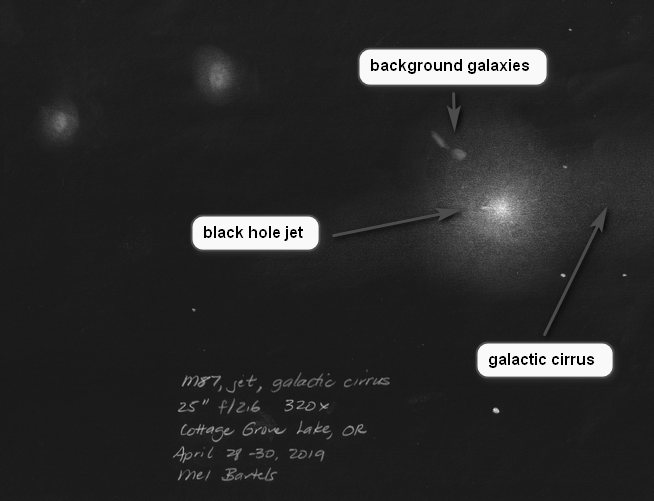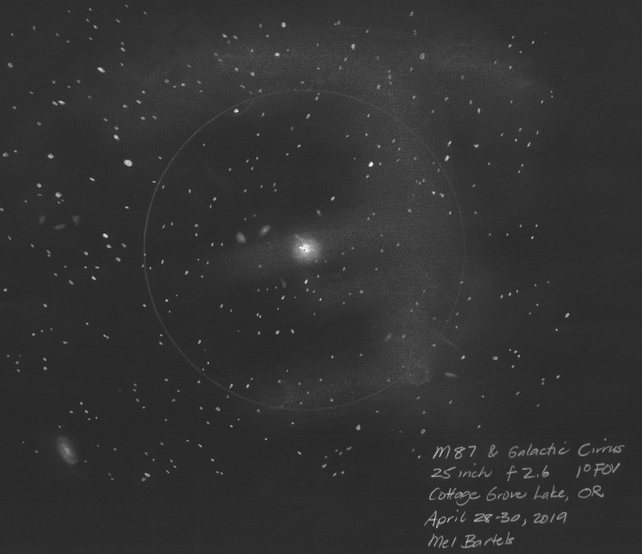 Mel Bartels