Date: Monday 6th May 2019. 0045 – 0310hrs
Scope: Borg 107FL f5.6 (focal length 600mm).
Night Vision: PVS-14 with Photonis 4g INTENS.
Eyepieces: Plossl 55mm (f2.6 x11).
Filters: Chroma 5nm Ha filter.
Unplanned Opportunity.
Last night I just happened to be up late watching TV. It was 0025 when I switched off for bed and happened to chance a glance out of the window (to observe the clouds) but I was greeted with a clear sky and a bright shimmering Milky Way overhead!
I immediately started to get ready to go outside, which involved getting the Borg 107FL out of its case, mounted onto the AZ GTi and gathering the handset and cables from the cupboard. I had to get my eyepiece case out, add the Chroma 5nm Ha filter & PVS-14 night vision. Finally gather my Bracken Sky Atlas and home made Sharpless observing tables.
Then it was time to get dressed with three layers of clothing and warm boots then head outside (hoping that it was still clear as 15 minutes had passed getting ready!).
It's still clear, Here we go…
Amazingly it was still clear so I got setup on the patio and completed the 2-star alignment for the AZ GTi mount. I checked M63 to confirm my alignment was good then fitted the Chroma 5nm Ha filter, 55mm TeleVue Plossl and PVS-14 Night Vision device.
Observing Summary.
Most of the objects mentioned in this report are low on my horizon (from northern UK) so I only have a brief opportunity to view them and with the receding darkness hours this opportunity is very limited indeed.
I started with sh2-313 which is an "in the middle of nowhere" Sharpless object which I had observed briefly on Friday night when conditions were only so-so. Tonight the conditions were better and I was able confirmed my observation of a small circle around a star with a further patch outline surrounding that.
Next, it was onto the low numbered Sharpless. I had a pre-prepared list of SAO objects for my SynScan handset but I was overcome with the quantity of nebula patches and there close proximity to each other, it was a real struggle to just see the one targeted Sharpless object.
The 55mm Plossl was giving me a low magnification of only x12 but I needed to use it to maximize the effective focal ratio of my scope/NVD combination thus allowing me to see the maximum nebula possible with my setup!
I also encountered (and confirmed this morning) some nebula sizing errors in the Bracken Sky Atlas that caused me some confusion when trying to view sh2-24 & sh2-41 in particular.
Sh2-24 is given as 1degree x 1.8degree object in Bracken so I observed the following "Faint and large, Thinner below and wider and curved at the top. Three central stars" whereas it turns out that both sh2-23 (45' x 55') and sh2-24 (30' x 30') should have been in my fov as two small nebula objects within that larger region – one for next time...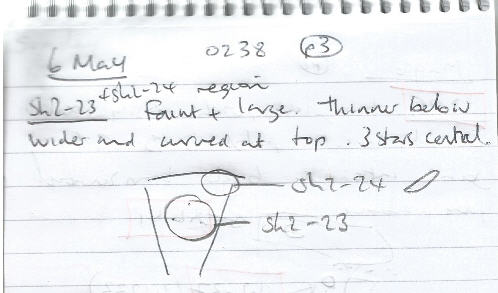 Sh2-41 is given as 2.1degrees x 1.9degrees but in fact it is a much smaller region (90' x 90') which is adjacent to two other Sharpless objects (sh2-35 & sh2-37). Luckily this area was very bright and I made a sketch that clearly shows all three Sharpless objects on it!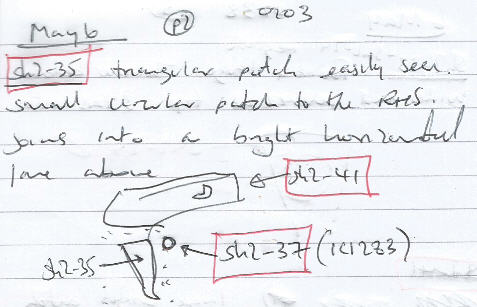 My Observations in more detail.
sh2-7 – Huge patch above SAO 184014. Outline goes up and across above the star then up to a large easily seen unexciting nebula patches.
sh2-9 – Large patch around a bright star, easily seen. Black hole patch under the star. Bright small patch (M4) underneath.


sh2-1 – Large oblong patch @45 degree angle. Brighter patch within at RHS top. Another brighter patch LHS mid-way.
sh2-22 – Large bright patch,
sh2-26 + sh2-28 – Two mid-size faint patches between Triffid & Lagoon RHS.
sh2-29 + sh2-31 + sh2-32 – IC4685 is sh2-29, a mid-size faintish patch with two stars inside, there are two separate small patches above with central stars (sh2-31 & sh2-32).
sh2-35 + sh2-37 + sh2-41 – This is a really nice area of sky with bright shapely nebula.

Sh2-41 is on top and is oblong in shape. It has a kidney bean small black shape inside with many stars. Sh2-35 is equally bright and runs down from the corner of sh2-41 in a stretched triangular shape. Sh2-37 sits as a separate small bright circular patch at the side of sh2-35.
sh2-38 – A small circle around a star.
sh2-42 (NGC6561) – A small faint patch.
sh2-33 – A mid-size faint circular patch located inside a triangle of bright stars.
sh2-43 – A small faint patch next to a bright star. I kept seeing a bright "S" shape coming and going from inside.


sh2-44 (IC4701) – A mid-size patch at the side of the Swan nebula. It had shimmering edges on LHS (2 patches) and RHS (lower corner). There seems to be a large curving black shape within.


sh2-47 – A tiny patch above the Swan nebula. It seems to be a curve.
sh2-51 – A bright 45 degree angled lane. It is triangular with a wider LHS. I see a black lane running inside.
For completeness, I have to mention the Messier objects as they were breath-taking!
Lagoon – The KING

of nebula returns. It looked almost 3D at the eyepiece and was so bright with the circular lanes having real depth and texture. There were fainter curving sections to the LHS. I truly wish I had spent longer but the Sharpless objects were calling me!
Triffid – Fantastic. My best view. The black shaped centre region was so wide and clear (at x12).
Swan – Wonderful. This object is so much more with NV than traditional eyepieces. There were large jet black areas surrounding and then a whole new extended section sitting on top.
Eagle – A small eagle shaped nebula with some really bright areas inside. The black "tick" of the Pillars of Creation was easy to see but so tiny inside. Again, I wanted to put more magnification onto it but my objective was the Sharpless objects for tonight.
Thoughts of the observer.
That's another 17 new Sharpless to my Observed list. Making 247 the new total.
I packed up at 0310 (when clouds rolled in) but even at this early hour the sky was noticeable brightening and the dawn was coming.
All through my session, I kept glancing up at Cygnus as it was glistening and bright with the Milky Way running through it. A little voice was telling me to slew around at look at some of the treasures within but I was very stoic and stuck to my low horizon targets

(as the diminishing darkness is only going to make them tougher to view).
Clear Skies,
Alan
Edited by alanjgreen, 06 May 2019 - 08:03 AM.