On 5/10-5/12, the 2019's first Yangtze River Delta Binculars Party features 3 RBBs on the same ground:
New Sky Rover 150ed binoculars on the fork, the behemoth DKD 8 inch carbon fiber binoscpes on the AZEQ 6, and the 130 apo EMS binoscopes on the Vinten Vision 30.
These includes achromat, ed and apo optics on different mountings. I have a day and a half night to compare the three, here are my breif conclusion.
General impression:
The 130 apo bino has the best optics but long and heavy(F7, 20KG more) and a hassle to use with people of different ipd.
The DKD 8 has the best light grasp but achrmatic optics are useless in daytime, and the scope is a behemoth.
The SR 150 is the most balanced and a pleasure to use with its hassle free traditional ipd adjustment and solid, waterproff casing.
Under day light:
SR 150:
1.distinct 3D effect
2.lateral color very well controlled
3.accept the largest fs eyepieces without vigetting
4.bright vivid images
DKD 8:
NO GOOD
130 apo bino:
1.crisp image
2.no color
3.very long focus travel, means nearly all eps will focus and you can focus on very near objects
Night time:
SR 150:
1.clean and crisp image
2.bright without clipping or fingernail
3.stars good but not perfect
DKD 8:
1.brightest, resolves more stars in a globular
2.whitish image due to poor light baffling
3.dirty image due to poor color control
130 apo bino:
1. best stars, finest and most vivid
2. a bit dim image
The SR 150ed, imho, is much better opticallly than the Fujinon 150ed, and much more fun to play with. It's best for a person who wants a solid,balanced big binocular kit and not so obessed with best optics. For one who wants even better optics or more versatality, 150sd, or a DIY project may be their cure.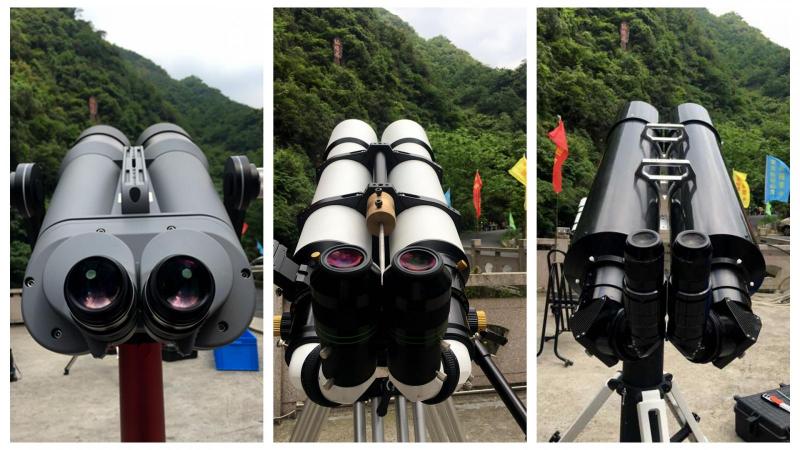 For more pictures, please refer to this.