It was suggested by John Hayes that I should add some HA data to the M51 image that I recently posted. John also noted that the colour was slightly out so I did my best to work on this. As always John's advice has been really valuable and indeed the rest of the forum
I have added 6 hours of HA to the image and have reprocessed. I also used the TVGnoise processing which using well constructed low contrast masks has done a really good job at removing high frequency noise. Thanks to Mike for suggesting this works very well.
The HA was combined into the red channel using Pixelmath at a density of 0.7 and was taken with the Baader 3.5nm enforced filter under a fairly bright moon but it came out very clean.
The image consists of over 200 images and as always was taken with the C14 at F7.7 with Baader LRGD filters and the G3 16200 at 2x2 bin.
Let me know what you think of the improved image. This will be my last Galaxy image until July/August of this year.
I've not flipped the image- I forgot to do this!
Clear skies to you all. Best wishes- Mark.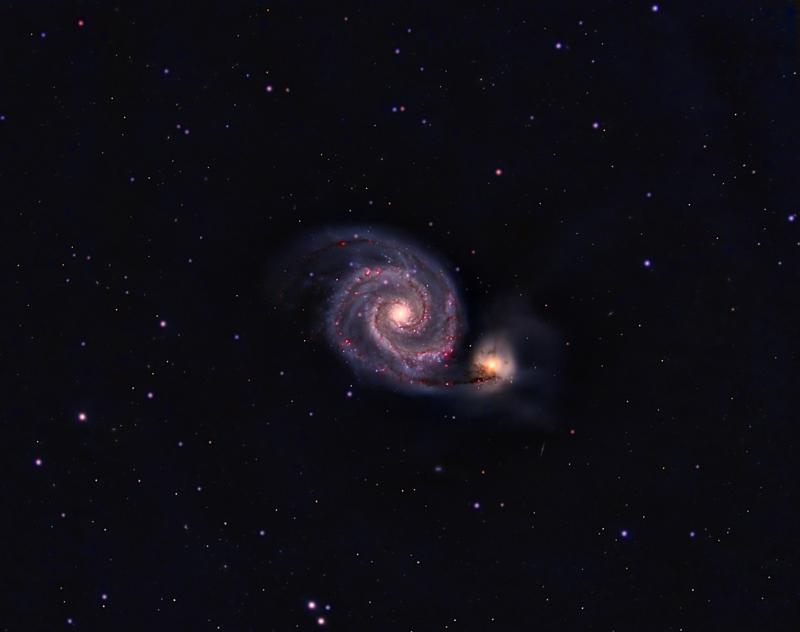 Edited by pyrasanth, 17 May 2019 - 08:05 PM.