Greetings!
I am working on data acquired recently of M101 and am having some trouble with Deconvolution in PI. I would appreciate advice on how to not transform some of my hard-earned detail of the galaxy's structure into little bright pinpoints that ultimately look like little stars that oversaturate the intensity and color.
Hardware Details
Celestron 11 EDGE
Celestron 0.7x Focal Reducer
Innovations Foresight ONAG
QSI 683 ws-8
Astrodon LRGB Series 2 Filters
Acquisition Details
Acquisition with Sequence Generator Pro
Guiding with PHD2 - achieved typically 0.4" RMS guiding curves with star FWHM around 2" (that's quite decent for my skies)

L

: 120 x 300s = 10h : 1x1 : 0.568 "/px

R

: 60 x 300s = 5h : 2x2 : 1.138 "/px

G

: 60 x 300s = 5h : 2x2

B

: 60 x 300s = 5h : 2x2
Brief and Abbreviated PixInsight Processing Details (L Channel)
ImageCalibration
CosmeticCorrection
StarAlignment (M101 barely fits in the FOV even with the focal reducer!)
ImageIntegration
DynamicBackgroundExtraction - sparse control points around FOV perimeter
MureDenoise
Deconvolution
Deconvolution has always been one of my most challenging processes to master in PixInsight. I wish to achieve a nice balance between recovering reasonable detail and not overdoing it to create detail that actually isn't there. (In other words, it is my desire to use the Deconvolution responsibly.) I ended up with quite a bit of integration time on M101 as I chose to image over several nights with variable transparency and seeing conditions. Despite the fluctuating weather and conditions I actually ended up with as much as 25h of adequate frames through the LRGB channels. (In fact, it is my wish now to go through the processing again and be a bit more selective as my finished product has several deficiencies besides the deconvolution.)
Lately I worked my way through David Ault's talk on Deconvolution in PixInsight on the Astro Imaging Channel on YouTube. There were some helpful bits in there that I had not considered before, mainly having to do with the generation of a suitable Contrast Mask for the image rather than a more straightforward Intensity Mask. This is my first attempt at making such a mask, and things came together better than usual, however I am still affected by the problem of transforming some of the galaxy detail's (small and relatively bright dust and gas regions) into bright "stars" that aren't really there. I would appreciate your comments and your advice on how to avoid or at least minimize this problem.
I will post some images now for you to see what I am talking about.
Thank you for your attention and help.
Best Regards,
Ben
First, here is my first image all the way through the LRGB processing. (I don't like my colors, I pushed the black point too much, and I wish to work on all that again, but my main reason for posting this evening is to ask about Deconvolution.)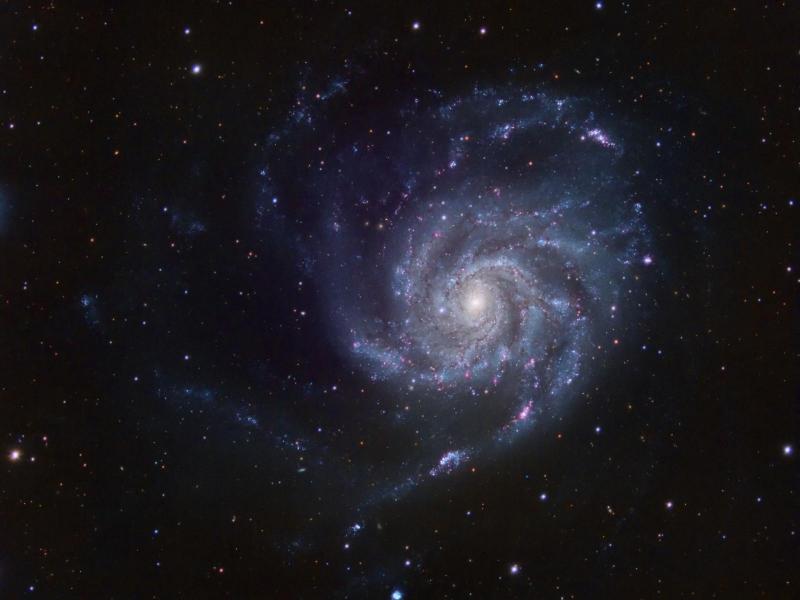 Here is a cropped region around the core. Note the little white pinpricks following the arms and trails of the galaxy. These are not present in the original combined channels but rather result from the Deconvolution step.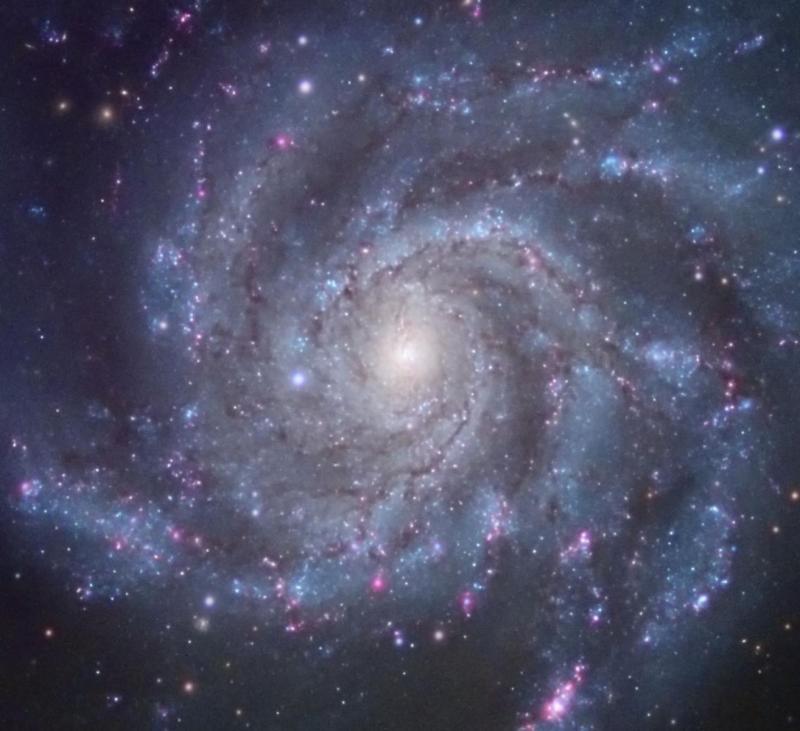 Here is the same cropped region from my linear Luminance image after the MureDenoise step and just before the Deconvolution step. I have tried to stretch it to match the final LRGB image, but that's tough to do at this point, however I think you can still compare the pre-deconvolved regions below with the post-deconvolved regions above. Putting these two images down together actually makes the problem not seem quite so bad, but I am still interested in learning how to minimize this effect.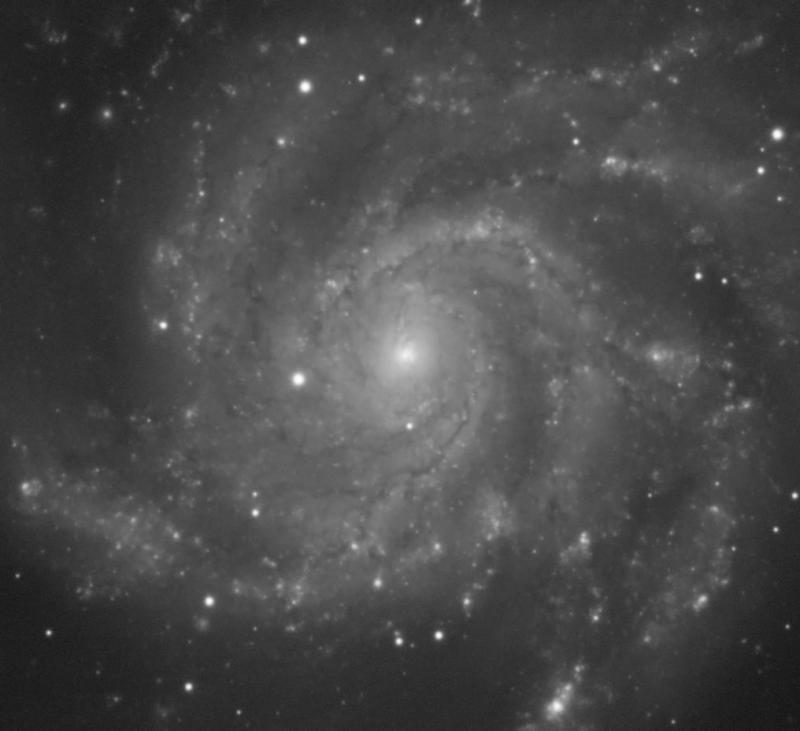 Last, here is the same cropped region from my linear Luminance image after the Deconvolution step. I've matched the stretch to the last one above.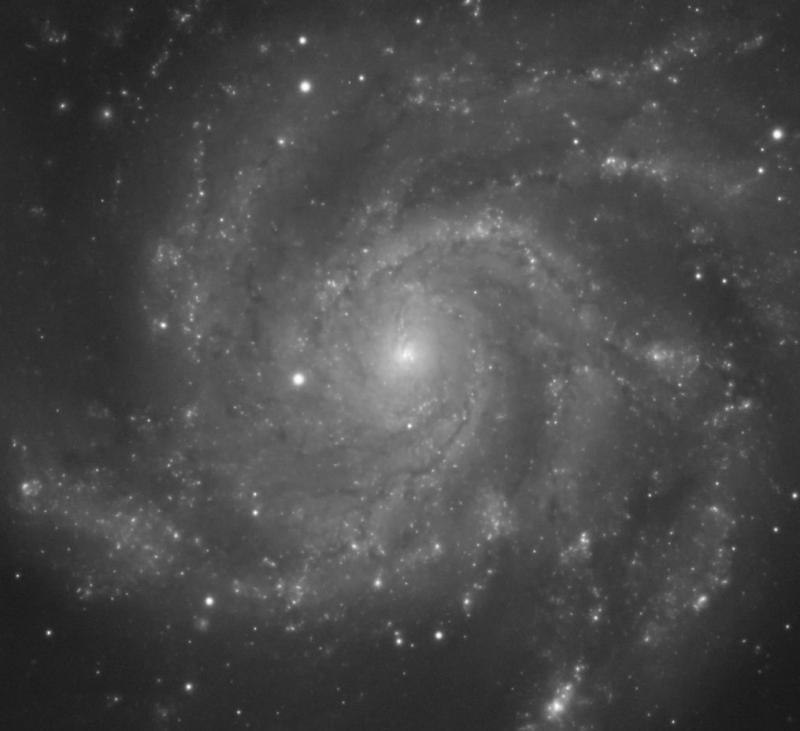 Thank you again, and I look forward to hearing your comments and suggestions.