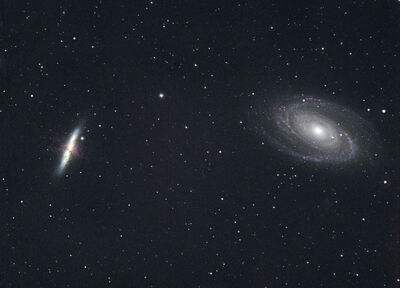 A few weeks back the weather and moon conditions allowed me to capture the color (R, G, B) data I needed to make my first ever HaRGB integration with data acquired using my Astrel AST8300-X CCD. Here is the resulting full color image of the beautiful spiral galaxy (M81) and "peculiar" galaxy (M82) located 12 million light years from us. Together they are known as "Bode's Nebula" - found in the constellation Ursa Major.
The spiral M81 has numerous, bright red hydrogen-alpha regions dotted along its spiral arms. These represent large nebula containing gas and dust that are the stellar nurseries where new stars are forming.
M82 is named the Cigar Galaxy for its shape, and it also has distinct dust lanes and outflow structures (red) emanating from its core for which it is considered the prototypical "starburst galaxy" (undergoing rapid star formation due to its relatively recent encounter/interaction with M81).
I hope you enjoy the image!
Stellarvue 130EDT (f7)
Celestron CGEM mount
Astrel Instruments AST8300-X mono CCD camera
16x5min Hydrogen-alpha filter (12nm Astronomik)
10x2min R filter (Astronomik Deep-Sky)
10x2min G filter (Astronomik Deep-Sky)
10x2min B filter (Astronomik Deep-Sky)
140mins total integration
Sensor temperature -20C
Guided (Lacerta MGEN II)
PixInsight (calibrated, registered, stacked, post-processed)
Photoshop (finish processing)
Edited by archy990, 19 May 2019 - 07:02 PM.