For a variety of reasons, I have not been able to observe as much as I'd like to recently. However, I've had plenty of time during my commute and on cloudy nights to refine my observing setup. I value ease of use, simplicity, limited but decent equipment, and having everything organized. I think I might be close to having everything just the way I want it (and that includes eyepieces!), which is partly very satisfying, but also gives me pause to wonder what I will obsess about now when I'm not observing

. I guess it's time to visit the observing forums more! And of course, there is always the thought that one is never truly done with equipment, but as I will explain below, I think what I have now suits my needs very well. Maybe you can review and let me know where you see gaps or areas for improvement.
I want to thank all of you for contributing to these forums and providing me with the wealth of information that allowed me to assemble my current kit!



Overview:
Main scope: 12.5" Portaball on Roundtable tracking platform
Widefield / Travel / Grab 'n Go scope: KSON 102 f/6 ED
Mounts: Skywatcher Az-GTi or Vixen Porta with choice of three tripods
Eyepieces:
35 mm Panoptic, or 40 mm XL (or 40 mM Paragon?)
17.5 mm, 9 mm and, 6.5 mm Morpheus (or 7 mm XW)
Swarovski 19-8 mm zoom
GSO 2" Barlow
Binoculars:
7x42 Leica Trinovid
15x50 Canon IS
2x54 homebuilt Nikon
More details:
Portaball:
I bought this used a few years ago and am the third owner. I love this scope for its optical quality, ease of use and compact storage. I love how the UTA perfectly nests into the sphere! Like many of the older Portaballs (this one has a 2005 mirror), the electrical system developed issues over time and I was eventually unable to charge the batteries. I used it as is for a while, but recently had a fellow club member help me wire it so that I can plug in a small external battery pack (XTPower MP-1000), which tucks between the shroud and the truss poles to power the fan, Rigel and dew heaters. Speaking of dew heaters: I recently found out here on CN that the Rigel finder that comes with the scope is heated, so that takes care of the unit power finder. I added a 9x50 RACI with dew strips, so am now prepared to make it through soggy nights without losing my ability to use either finder. The battery lasts about 4.5 h, so I got two to make it through a full night. The secondary heater is still nonfunctional (there is a clipped wire somewhere that I have been unable to diagnose), but I never had the secondary dew up so far. I also added an Astrocrumb filter slide with Astronomik CLS, UHC, OIII and Orion moon filters, so I don't have to fiddle with filters in the eye pieces in the dark: very convenient to switch through the filters and compare quickly side by side!
The platform came with the scope when I bought it, and that's a component of my setup that still needs help. The friction surface was worn out and I have not found a satisfying replacement that does not bunch up over time. I tried adhesive sandpaper, but then settled on shower and tub anti-slip strips, which I think was what was on there initially, However, the material does not adhere tightly enough, and over a short time it gets pushed around and causes slippage. Also, the little wheel that drives the platform on the friction surface keeps coming loose and needs to be tightened frequently (there is a tiny set screw that fixes it to the shaft). I mostly use the scope without driving the platform and don't miss it much, but it would be more convenient to have it working, especially when sharing the view.
KSON:
I bought this with travel in mind due to its light weight (8 lbs 6 oz. with rings and diagonal) and retractable dew shield (20.5" when collapsed), and to use as a wide-field complement and for quick grab and go. I have to admit that for low power wide field views I prefer my 15x50 Canons, but it's nice to have this available at home, and I found a nice bag (Swissgear Zurich rolled duffle) that allows me to pack this scope with all accessories (rings, diagonal, 35mm, zoom, Barlow, finder and the Az-GTi mount head) for easy airline carry-on and wheeling through airports. It only uses FPL-51 glass, but for me it's a perfectly adequate combination of portability, wide field and ability to observe the moon and planets without too much chromatic aberration.
Mounts:
I have a Vixen Porta for smooth manual viewing with slow-motion controls, and recently acquired the Az-GTi as a compact go-to mount that allows for manual operation without losing alignment thanks to the dual encoders. I had a couple of go-to mounts before (SE and SLT), but they were too complex and got in the way, so I did not use them much. With the Az-GTi, I am hoping for a compact travel mount that tracks and does decent go-to when I feel like it and can be used manually as well. I'm still figuring out if I got a good copy, as it seems there are significant variations in precision and mechanics. I believe this mount is capable of good to excellent pointing and tracking, and I hope that this will work out for me. I've only used it a couple of times and got largely acceptable gotos, but I hope it will be solid with more practice and possible software updates. The manual azimuth motion is a bit stiffer than I'd like (as reported by others, so this seems normal), and currently there is no easy solution to use SkySafari with only one device in iOS, but I think Bill and friends are working on addressing that. Things I like beyond the dual encoders:
Very compact
Wifi connectivity without adapters
Not too loud
Easy alignment routine with no need to input time and location
Point and track for short-time tracking without alignment
Camera shutter control connection with bulb function available in the software

I like this not for AP, but because I am wondering if it will allow me to connect and control a green laser pointer remotely to use as a push-to system for my Portaball
I modified the Porta mount to fit on a standard photo tripod, so I can use either mount on one of three tripods, depending on need for compactness or stability:
SV surveyor tripod with wooden eyepiece tray for rock solid connection
Original Az-GTi tripod. This is actually fairly solid for the small size
A vintage aluminum Linhof photo tripod with center column that avoids the Az-GTi extension as the most compact solution for travel (24.5" collapsed, 56" max height, just over 4 lbs)
Eyepieces:
35 mm Pan

I really like this one, but it causes balance issues in my Portaball if pointing very low. I tried adding ankle weights into the sphere to counter that, but you have to add quite a few and I think that stressed the cart and tracking platform. I am looking for a low-weight alternative and got a 40 XL, which is OK, but not quite as nice. I am curious to compare the 40 Paragon, but these are hard to find. I had a couple of wanted ads out with no replies. I might look if anyone is willing to loan me one to see if I want to continue to pursue one of these.

17.5 mm Morpheus

I got this as a lightweight alternative for a T4 Nagler and really like it. Half the size and weight (and price) of the Nagler and very close performance. This one is a keeper!

9 mm Morpheus

I like the 17.5 Morpheus so much that I decided to try and replace my 10.5 XL and 7 XW with them to have a parfocal set. The 9 mm is new to me, but in my last all-night session, I found myself using it again and again, so I think this is also a winner!

6.5 mm Morpheus

This one seems nice, but I am not sure yet if it will replace my XW. You probably realized by now that I like long eye-relief and medium-wide fields of view (I tried a couple of 100 degree eyepieces, but did not warm to them), but I think the Morpheus is not quite as comfortable to use as the XW, which might be mitigated by the extension ring. I've just installed one of those, as I normally need more, not less eye relief, so we will see. Another thing I like about the Morpheus over the Pentax is that it is 2" without adapters (the Pentax are so close, but he body is just a bit off!). I decided I don't like to deal with removable adapters (did I mention I am lazy?), and got permanent adapters for the Pentax, so it is not a big deal for me now, but the dual feature of the Baader is still a nice touch.

Swarovski Zoom

I really want to like zoom eyepices, but have not found one that truly replaces my fixed focal length ones. I tried the Nikon MC-II zoom (not enough eye relief), Baader zoom (same, and not parfocal, I believe), the Leica, and the Swaro. The Leica and Swaro were very similar in all characteristics, including unfortunately the edge of field brightening, which I find very distracting. In the end I kept the Swaro due to the smaller form factor and nicer eyepiece cap. This is good to use to dial in the magnification when needed (with or without the Barlow), and for my travel setup.

GSO 2" Barlow

I had the Baader VIP that others use with the Leica zoom, but I decided I like to not screw the Barlow on, but just use a traditional one. I needed one that did not change the focus too much due to limited focus travel in my dob, and this was the first one I tried. I got lucky, and the optical quality is also good enough for me. Plus, I can use it with my other eyepieces as well if need be.
Binoculars:
Leica 7x42

Great for easy sweeping and context. I really like this mag and FOV, and the contrast is great.

Canon 15x50

These are nice for a closer look at higher mag without need for tripod. As I mentioned above, the view through these is a strong competitor for the low-power view in the 4" refractor. I find the FOV a bit too small to be easily oriented. Sometimes it takes me a while to figure out where I am in relation to where I want to be: the Leica is really much easier for this. I tried the 18x50 when I bought these, and did not like the dimmer view and further reduced FOV.

2x54 homebuilt Nikons

These are made from a couple of teleconverters according to instructions hereon CN. These are a specialty item and allow me to view entire constellations in a view very reminiscent of naked eye view, with significantly more stars. I tried the Vixen 2.1x42 binos and the Nikons have more eye relief, so I can get a much wider FOV. They don't focus, but this is not an issue for me (yet).
Other:
I already mentioned the Swissgear Zurich duffle. I am very happy with that for travel.
I have a Nanuk 930 case to hold 5 eyepices + Barlow and other accessories: Glatter laser and TuBlug, Rigel finder and Starlight, battery packs, dew controller, bike tool with assorted allen wrenches and flat/phillips screwdriver, filter slide, green laser, lens pen, etc.
A second case is a small Igloo cooler that can serve as a step for kids and other people who cannot reach the eyepiece easily. It holds the binoculars, RACI finder, Thermacell, planisphere, a dedicated astro iPad mini with red film, Pocket Sky atlas and Objects in the Heavens.
I have a folding table with wooden slats that roll up for easy storage that I use for the Nanuk case and to hold lose items that are in use. The slats prevent things from rolling off and the wood absorbs dew rather than collecting it like plastic would.
For an observing chair I have a Vestril CPRO-800LP chair that folds flat and is adjustable from 18"-33".
Finally, there is a Night Sky Observer vest that I am very happy with to store eyepieces while not in the focuser, and to keep out stray light if needed. I just don't have much use for the smaller pockets; I wish there were more large ones (I should look into opening the seams to create more large ones). And thin biking gloves for cold winter nights to allow manipulation of eyepieces etc. without numbing the finger tips.
And the best thing: Everything mentioned in this post fits into my Ford Focus with room for a passenger!
OK, so that was a long post, but I am quite happy with what I ended up with and wanted to share. Below are some pictures.
If you are still here, let me know if you see any gaps or areas for improvement. I have thought about the following:
Larger main scope. But that would come with significant increase in space demands, travel logistics and setup time. Plus I have not nearly begun to exhaust what the 12.5" scope can show me.
Paracorr. I am not really bothered by the coma that I know should be there, but I actually got one (gen 1 with tunable top) to see if I need it. Between limited focus travel and unfamiliarity with the settings to match my eyepieces, I have not given it a through try yet, and since it adds more weight that I am trying to limit, I think I don't see a strong need to use it for now.
Full apo refractor. Not sure I would need this; I am happy with the views I have now, and I think I might not fit a 4" into a carry-on bag as easily as the KSON
If there was a zoom with similar or better (e.g. no EOFB) quality and FOV as the Leica/Swaro but with a larger zoom range, that would interest me.
Better tracking platform. I don't miss it much when I'm not using it, but it would be nice to have something that was very robust and just works. It would have to be customized for the Portaball, though, with a circular cutout for the ball.
H beta filter. Not sure if that would see much use, and I would have to decide which filter to retire from my slide (or get a longer one with another slot).
One other thing that I am tempted to invest significant cash in is night vision. Given my inability to get out to the dark site often or have extended sessions, I am tempted to see what NV can do from my orange zone.
I would love it if there was a way to use the iPhone as a unit power finder by placing it flat on the UTA and have it show where the scope is pointing. But for now it seems there is no way to robustly implement this in a way that can be sued with a low power eyepiece.
Thanks for reading, and I hope some of this was helpful to others. I'll still be sticking around here (and in the eyepiece forum), but I noticed a decided drop in topics that whet my appetite to spend more money recently

.
Michael
Here are some pictures:
Portaball (sans shroud)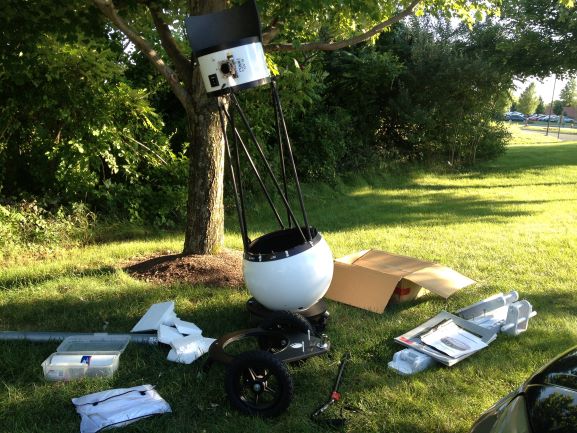 Portaball in my car (ususally rides in the trunk)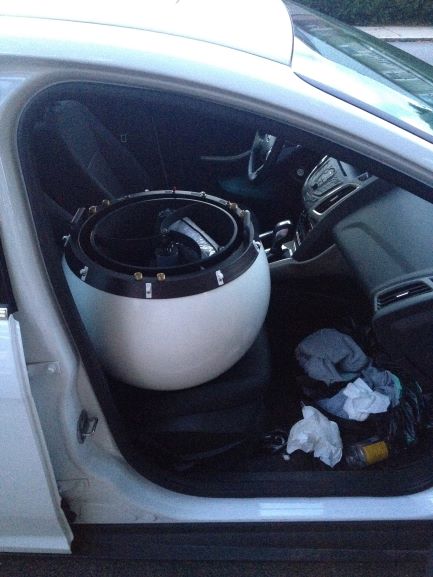 KSON in my travel case with mount, eyepieces etc.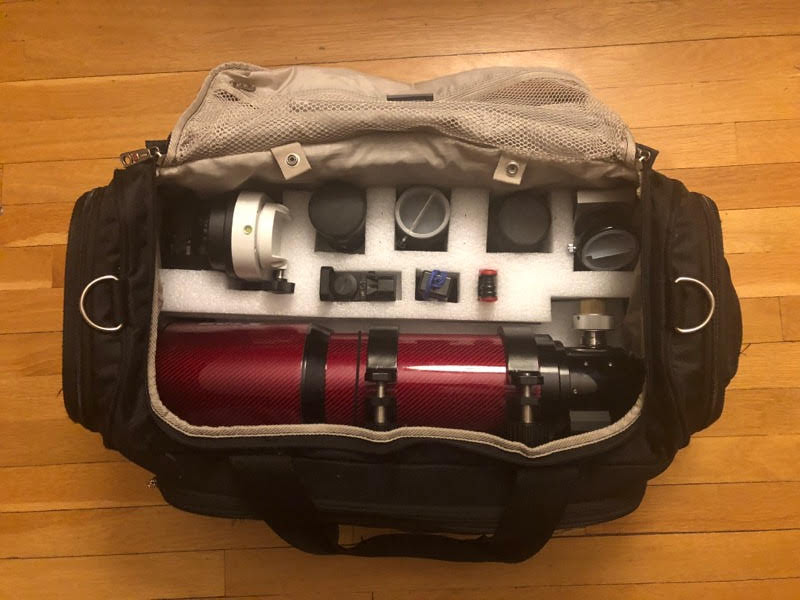 KSON bag ready to go (tripod will be checked if flying)
Nanuk eyepeice case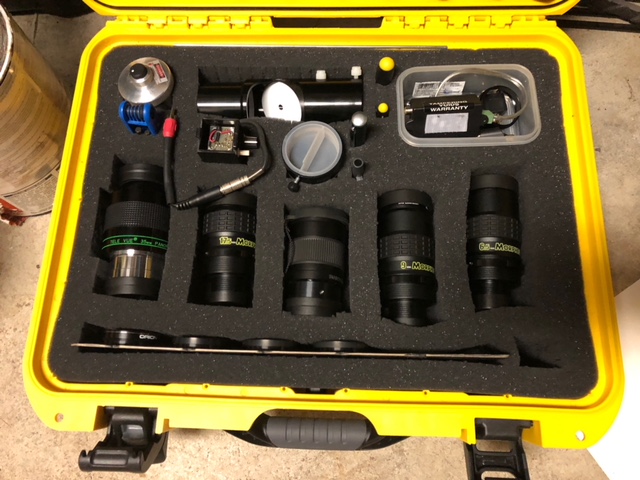 Edited by Ken Sturrock, 05 August 2019 - 07:46 PM.