Hi all! First time posting an image here, although I've been reading your tutorials and tips for a long time. Everything was very helpful! Anyway, after many attempts I was able to get some shots in one night (16/05) with good seeing.
For each of the 4 images, I captured 60 videos in batches of 15 videos with 60 seconds each with FireCapture (histogram at 80%). First, I processed the videos with PIPP to eliminate pictures that partially showed the planet. Then, I stacked the videos in AS! using the Kokatha Man tutorial (thanks

). For sharpening, I used only the first two sliders of Registax (I don't like the rest

).Then, I used WJ derotation for each batch of 15 images. Finally, I used PS for unsharp masks, color correction, high pass filters and image resizing (150%).
My equipment:
SW 14" dobson GoTo
SW x2 achro barlow
ZWO ASI 120 MC
Images: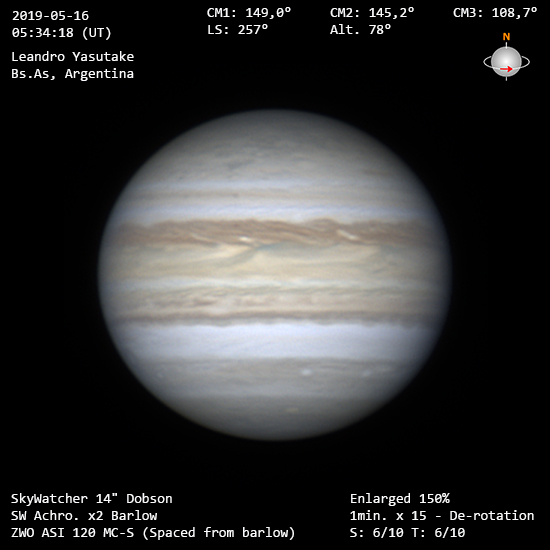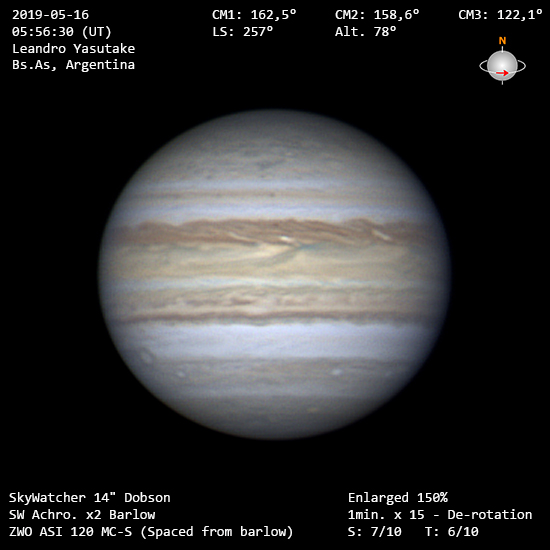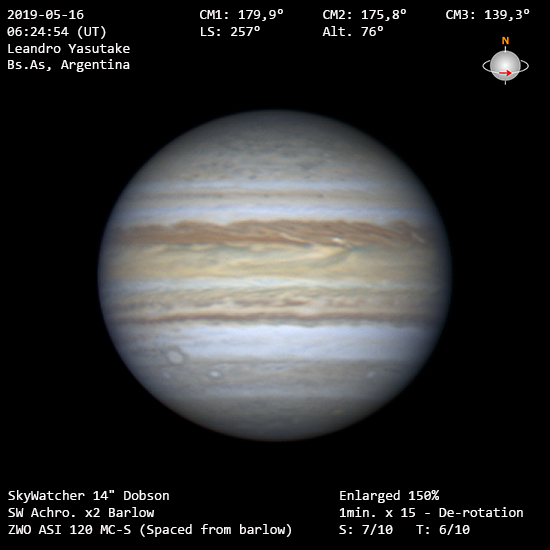 I'm still need to fine tune collimation and processing. I would love to know if I'm missing something (or not) with my processing techniques. I still don't have programs like Astra Image or one that allows me to use deconvolution (I tried fitswork but I didn't get good results). Meanwhile, I apply a couple of iterations of unsharp mask with low values combined with the high pass filter. For color I use RS RGB Align or balance or PS (vibrance and saturation).
I hope you like them!
Leo.
PS: apologies for my broken english

Edited by leoyasu, 20 May 2019 - 04:59 PM.