I had a pretty good night on 14th May (my last image was from then) but the cold chilled my bones, and resulted in my buying an insulated jacket so I was imaging for this session on the 16th lagged up like an old boiler. As someone said, "There is no bad weather, only bad clothing".
I spent a goodly amount of time checking collimation for this session and I also worked throughout with the ADC, despite the planet's altitude and despite the resulting slight appearance of oversampling during capture - the results having been better with the ADC than without on the 14th.
Here are three images synthesized from the session: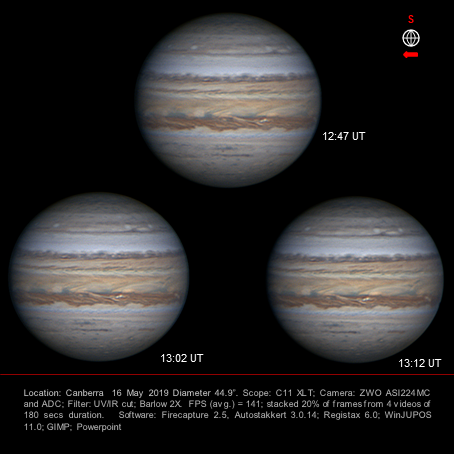 And here is Jupiter with Io from a single video; Io is not separately processed but simply emerged from the same sharpening process applied to the planet.