I had set up earlier to capture the ISS, which turned out pretty lousy in the end, again. I put it down to the dumpy level of my garden and the intoxicating stink of slurry which the neighbouring farmer thoughtfully sprayed all over the freshly harvested field next door - the place smells absolutely rank (but my dogs absolutely love it!).
Jupiter was radiant with the moon in tow and in spite of the lousy seeing conditions and less than favourable altitude (13 degrees), there is at least the GRS evident here and Io too just before it passes into shadow.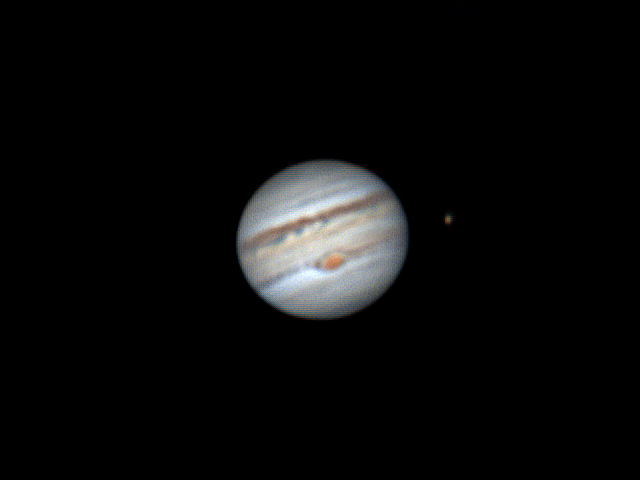 Just before I passed out with the smell of slurry I spied Saturn's bendy light poking over the horizon at a heart-sinking 5 degrees (a new personal best!!). Focusing was impossible on either of these two planets by the way but thankfully the moon was there to help out. Seeing was getting worse and worse as the time rolled by but I have noticed the best seeing is generally around an hour or thereabouts before the planets reach their highest (high being relative of course). Not exactly sure why this is the case and if anyone has a reason for it I'd like to hear it. And indeed it was so as the final Jupiter capture is more Planet Stupider than Planet Jupiter tbh and it's now residing in my recycle bin along with most of the data I got in the session. Here's Planet Frisbee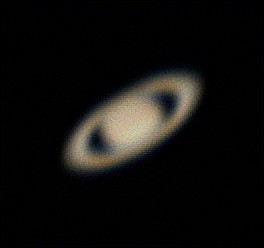 Just then the ISS blazed across the sky for the second time, much higher than the first time, but I had forgotten about it in the meantime and so I missed it. I'll try again tonight.
Later.