Nice sky: planet still beyond the fence (mostly) for the big scope. I knew the GRS would be getting off the disk so thought to get the co-mounted 3" on it while I waited.
Off guard – instant flashback – I was flung back to my 18-yr old self when I seemingly saw the Spot pretty much looking the size it was in 1962 in that same scope & ep........All too soon realizing that recently there had been a seeming belt curling around it giving a monocled or black-eye effect!
Thus what I was seeing, in the then poorer definition, was the unresolved mass giving that early 60's size to the GRS.
Even so wonderful memories of my early observing times kept pulsing through me for some while: and that is something else to carry with me now on.
Edit: Just now told my wife, Denise, that I had reverted to my youth last night. She responding: "Now you tell me"........

.........
Dave.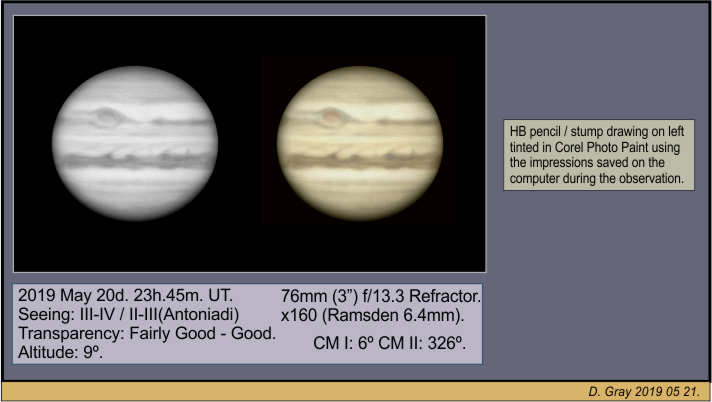 Edited by David Gray, 21 May 2019 - 10:40 AM.