May 20th, 2019 Night observing session 23:30 - 04:30
I was doing some local backyard astronomy under a red/white zone with a near fully illuminated moon with my TSA102S. Transparency was fairly poor until 23:00. I put the scope and eyepieces out at 22:00 to cool off. At 23:00, I set up the EQ mount, which took a lot longer than planned.
I couldn't figure out why I was so off of Polaris, then I realized I used my vibration suppressing pads last. After about 30 mins of fiddling I finally got Polaris in my sights through the mount.
I aligned the mount with Vega, which was icy white. Arcturus was a brilliant orange-yellow, and Dubhe a fierce yellow.
I then proceeded to do some casual surfing. M81 and M82 was found, the moon was not fully up yet but still the views were muted with the 32mm eyepiece. The galaxy's oval shapes barely discernible.
I had a good long look at Cor Caroli. I tried the double star observer trick of defocusing the rings to identify the color, but it seemed quite hard to do at my highest magnification @ 136x. I have a 1.5x extender coming soon so hopefully I can attack doubles a bit better to identify color. Either way the view was beautiful. I want to say a whitish blue for the primary, secondary color undetermined still.
I split Mizar and Alcor. I love this starfield view. With the 10 Delos you get several bright white stars, 5 or so. I also observed Napoleon's hat asterism. I counted 7 members here under Arcturus. Beautiful little hat-shaped arrangement of stars, framed very well with the 10 Delos. The seeing really wasnt great tonight. Average to poor.
It got fairly cloudy again, so I put the lid on the scope and parked the mount. I went in for 60 mins or so and checked out Cloudy Nights.
Going back out it was clear, so I resumed. I had a nice view of M39 and M29. Both star fields were very nice when framed extra wide by the 32 Masuyama.
I had a gander at M57- the Ring Nebula. This was aptly named, as the Ring shape was noted, barely. Conditions were not the absolute best but I was able to view it.
I scrutinized Alberio, brilliant yellow and blue pair.
By about 03:00 to 03:30, I noticed Jupiter was coming into view. I wasn't expecting much, this year Jupiter is very low in the muck of low elevation. I was planning on viewing it until the moon came into prime viewing location between the neighbor's tree and garage.
To gain perspective of my conditions, I took a picture. Neighbor left his kitchen light on, how nice of him...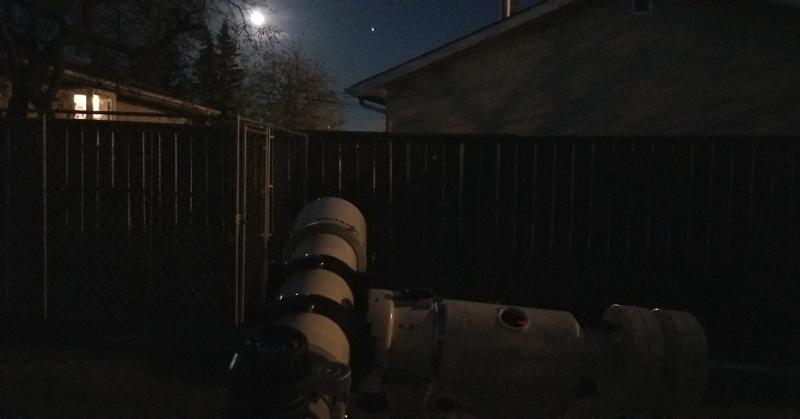 At first the conditions were as I expected them to be, not great. I could barely see the North and South Equatorial belts, and the Great Red Spot! Cool. I tried my Lumicon light blue filter, and it kinda helped at times. Nothing crazy though.
There was just one problem, and it was a serious one: I was getting a view of Jupiter upside down! I matched the view with SS6 pro perfectly. Europa on one side, Ganymede and Io on the other. The only problem is that it was upside down! Even the GRS, perfectly visible to me, was on the top of the planet. This almost gave me a mini existential crisis, did I upset the balance of the universe? Did I just break the laws of physics with my refractor? I KNOW the view is flipped horizontally in the diagonal, but not vertically.
I almost couldn't reconcile this at 03:30am....and thought about how I was going to word this crisis to the online community without sounded stupid. Then it hit me like a brick to the dome

, my diagonal was at a funky observing position. The whole scope and diagonal was at a weird angle, basically parallel to the ground. After putting the diagonal 90 degrees with the ground, the planet was its normal self again. I let out a sign of relief and the cognitive dissonance went away.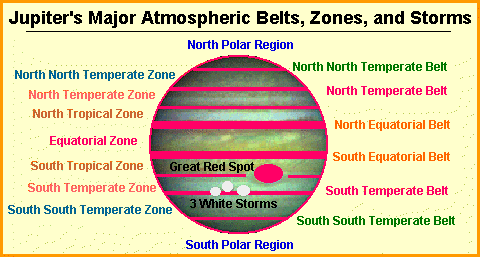 As my observing the planet continued for over 30 mins, the seeing improved. I couldn't believe it, I was seeing ripples or bays in the North Equatorial belt. In the center Equatorial zone, I was seeing irregularities in the brownish white mixing zone. The GRS was very visible, and I was getting intermittent views of the South Temperate belt, but curiously the polar details were vague to non existant. Mostly the center, but it was chocked full of details.
I took on and off the blue filter, but perferred the view without it. At times the seeing was not great for 136x, so I dropped down to a 10 Delos for a sharper, more vibrant view at 81.4x.
After another 20 mins or so of viewing, the seeing was getting a bit worse but the moon had traveled into the backyard sweet spot observing location. I put on the ND25% filter and the #8 orange filter and compared those. The orange filter was better, it really does make the moon pop more with contrast, despite high magnifications, bright illumination or poor seeing.
I observed this for a while, even tested moving the diagonal into another funky position and again the view flipped upside down and back again.
I gazed at Mare Crisium, which was highlighted nicely. The craters inside it were easy pickings, the two biggest being Picard and Peirce. I scrutinized the area of Vallis Snellius, with particular focus on Pentavius. Rimae Pentavius captivated my attention. The terraced crater walls were too convoluted to accurately count with their folds and details. Central peaks lent themselves to my curious gaze.
Shadows fell upon Vendelinus well, casting a nice black shape from a fold on the surface.
I could see the central mountain peaks in crater Lohse easily, as well as Wrottesley. I worked my way to Langrenus, another stunning crater. I counted the triple fold terraces in the crater wall on the left hand side of the crater, and it too has a conglomeration of mountain peaks inside.
I sat back and took note of my surroundings. The Sky was no long fully dark! It was 04:15 and the sun was rising. I essentially pulled an all nighter (after having an hour nap from 22:00 to 23:00 basically.
I packed things up after the lengthy session, went to bed content with the good dawn seeing I got to experience during an otherwise ho-hum night.
I could sleep easy knowing I did not violate any laws of physics or break the universe for you all, as I am sure some of you are quite found of the universe.
Thanks for reading and clear skies!