Greetings!
At last I have called it quits (at least for now) processing lots of LRGB data I managed to capture of M101. I'm mostly pleased with the result and am even more pleased to actually produce something rather than dream wistfully of summer.
I include my very long description from AstroBin below, but for those who don't care to read yet again the physical description of the Pinwheel Galaxy nor to slog through my scintillating musings, here is the image.
As always, your comments and suggestions are most welcome! Thank you for your attention.
Best Regards,
Ben
Higher Resolution Links: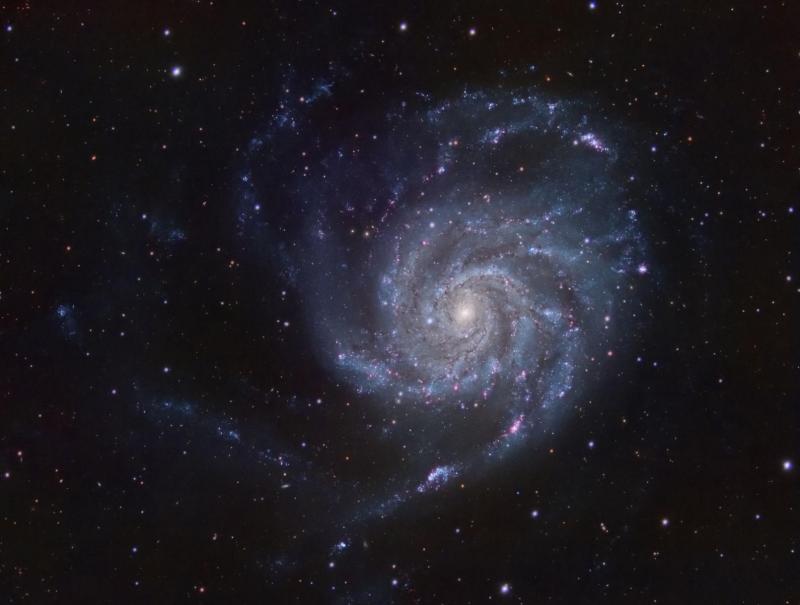 From the Description on the AstroBin page ...
Physical Details
M101 (the Pinwheel Galaxy) in Ursa Major (UMa) is an iconic face-on grand design spiral galaxy. With an apparent size of 29' x 27', it filled my FOV using the QSI 683 with the Celestron 11" EDGE, even with the Celestron 0.7x focal reducer. I did manage to encompass nearly all of it including the prominent arm splayed off to the left in this image as well as two of the fainter arms protruding to the right.
M101 is 21 Mly (6 Mpc) distant with diameter 170 kly with about 1 trillion stars. Interestingly, our Milky Way is larger at 258 kly diameter but with only about half that number of stars. There are many HII star forming regions, several of which can clearly be seen in this image in red. Several are large enough to have received NGC designations, as seen in my annotated Version D.
One of M101's distinct features is its asymmetry having resulted from interaction with nearby galaxies, which can't be seen in this image at this scale. This causes strong star forming interaction in the spiral arms, denoted by a mostly blue hue that this image has captured.
Acquisition and Processing Details
I had a string of welcome, mostly clear nights at the end of April through early May. I devoted several nights to accumulating more frames than usual of M101 in L and R,G,B. With more data than usual, I could be both selective in using frames for the combined channels as well as to include more integration time and draw out better detail. This was also quite necessary since many of the nights had low transparency, however thankfully average to above-average seeing.
This is my first posted image having used the Mure Denoise script in PixInsight. I'm quite pleased with the outcome and like the way this process utilizes the camera's measured characteristics to apply noise reduction. The result is quite intuitive and pleasing.
With 10h of L at 1x1 I spent quite a bit of time working on the Deconvolution process. I am still somewhat bothered thinking that some of the brighter regions of galaxy have been over-deblurred to the point where they look like little pinpoint stars, but others have informed me that these may actually be stars after all. I'm not sure about that yet, but I'm also done messing with it for now, so here it is. (Examining the Hubble image - see below - of M101, however, I'm now thinking that these pinpoints are real and I haven't created detail that isn't there after all.)
The coloring doesn't quite look right to me. The initial result showed too much green, particularly on the right side of the galaxy in its more nebulous regions, so I redid the RGB processing to apply more aggressive green removal with SCNR during the linear phase. This ended up with a more pleasing result, however I note that the histogram shows a distinct suppression of the green to the left. I prefer to see the colors lined up better around the background peak. In addition to this I can still see some mottled red and blue here and there, so even with quite a bit of integration time my colors aren't quite what I wanted. Perhaps with a future redo I will select fewer frames and see if the color quality improves.
Finally, I am not completely satisfied with the clipping of the stars. I determined an optimal exposure time of 300s for all channels, and in retrospect I now wish I had backed this off a little bit to not saturate the stars so much. My next imaging will be with my new FLI ML16200 camera, which I already know will tolerate much shorter exposure times.
Conclusion
Overall I'm still pleased with this, particularly as the image marks a fun, unexpected span of many nights of imaging around the New Moon where I could capture lots of frames of one of my favorites.
Lastly, I want to remind the reader of the amazing composite of Hubble images of M101 that can be examined extremely closely. I don't wish to detract from my hard work, but the Hubble image is truly beautiful and intriguing to explore. It has been fun for me to compare my image with Hubble's and am pleased to note that many of the background galaxies around and behind M101 can actually be spotted in my image as well, albeit a tad more blurry.
Thank you for your attention, and as usual, your comments and suggestions are most welcome!