Hi all!
I wanted to share an image of M33, the Triangulum Galaxy, that I recently finished (re)processing in PixInsight: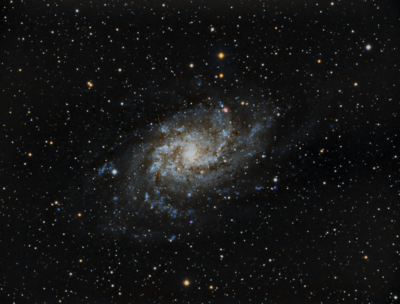 Compared to my first attempt back in January: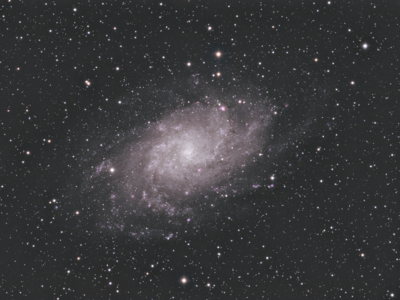 Interesting that I have more nebulosity in the January image (not sure where I lost it in the process) though I'm much more happier with the colors of the recent image.
I think in the past I was over-processing my images and decided to take a simpler route and was recently inspired by an
Star Stuff Stuff video
on workflow. I basically ended up with this:
Calibration > Master L R G B files
AutoHistogram
ABE
ColorCombo (RGB)
BackgroundNeut
PCC
SCNR
HistogramTransformation
CurvesTransformation
LRGBCombo (here I had to back off on the L channel as it was coming in too strong)
HistogramTransformation
MorphologicalTransformation
CloneStamp (minor touch up)
LocalHistogramEQ
CurvesTransformation (w/ mask)
ColorSaturation (w/ mask)
Resample (for upload to CN)
MultisclaeLinearTransformation
Deconvolution (using the PSFImage script)
UnsharpMask
I'm really happy with how it came out compared to my first attempt. I think I could have done a little better with the star reduction and mask creation, something which I will aim for next time. Please, if any of you have any suggestions or comments on how I can improve on this, let me know. Full size image is located
here
.
Thanks!