Sky Muse - I have the Bresser version of the same scope and saw that you replaced the RDF that came with it with a vixen-style base. Which one did you get and what type of finderscope are you planning to use? Got to agree with you that the RDF that came with it leave quite a bit to be desired.

Chris
I used one of the bases with one of two Apertura 8x50 straight-through finder-scopes, and perhaps the one that I had a relation get for their C90. They were $29 each on eBay at the time, and they came with bases. He doesn't use that C90 for astronomy, so a straight-through suits him fine, but he didn't need the base as the C90 already comes equipped with the type, so that's probably the one I attached to this Maksutov, and backwards at that. Look at the base within the image above of the rear of the telescope.

I'll need to turn it around, and whilst beefing-up its attachment to the plastic rear cover. The cover's threaded holes for the base are also plastic; no metal inserts I'm afraid. I'm thinking of a thin aluminum plate on the back side to strengthen it, and with nuts over that for the screws, but only if there's room. I would like to have a better base however, and for this telescope.
It was when trying to find Polaris, even at the telescope's lowest power, that I was having a bit of difficulty, as there are quite a few stars in Polaris' vicinity, and revealed via the 5" aperture. I decided that going finderless in that instance wasn't going to work. So I went inside and got this 6x30 that I had lacquered, and blackened and flocked internally recently...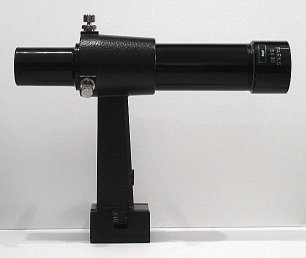 I will also have option of most any finder-scope or red-dot in future. That 6x30 was previously aligned with my other catadioptric, a 5" "Bird Jones", but once I attached it to the Maksutov it was way off. I aligned it via the Moon, and then found Polaris.
In so far as the bundled red-dot finder, someone had made mention of using springs to tighten up the assembly. I plan to use this spring, four cut lengths of same at about three or fours loops each...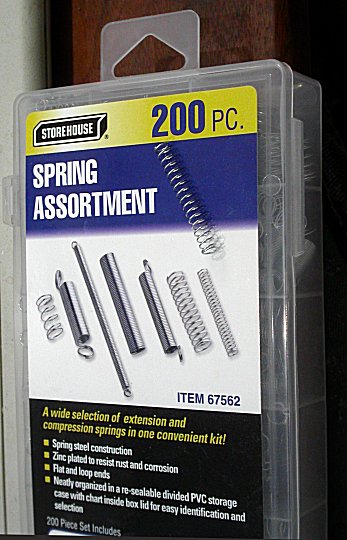 Whoever produced these red-dot finders for JOC, if not JOC itself, certainly didn't the get the construction of the chassis down pat.