So I thought I'd give it a try using potential orbital elements and using the reports from other sightings to estimate a visible pass.
I went out with minimal gear this morn, decided to skip recording in 4K as well as my normal use of a display to get the shot perfect.
Sure enough they showed up.
I couldn't believe how tightly grouped they were. I should have brought a longer lens outside.
They looked at first like a plane contrail until I zoomed in for focus.
Cropped in major and this clip is short due to GIF size limit....
Unseen in this clip is a few stragglers in tow following behind more spaced-apart...
While I'm not a fan of the plan, I salute SpaceX and all their success...
And for those who missed the light show, they'll be more. Many more.....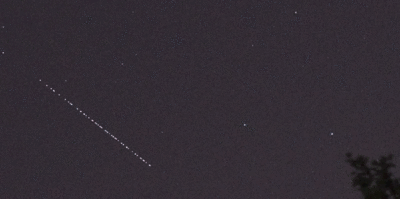 animated GIF, may need to click on to animate...

Realtime motion video....

Edited by t_image, 24 May 2019 - 11:13 PM.

&nbsp