Of late I have been observing primarily with my 8" f/5.9 reflector. After collimation, I check the seeing via visual observation at moderately high power on tight and/or magnitude contrast doubles—this is how I happened on this pair of doubles in Draco.
STT 312AB and STF 2054AB appear to the naked eye as the single star Eta Draconis. Starting in Ursa Minor, a straight-line path from Kochab through Pherkad gets me to Eta as shown in the annotated Cartes du Ciel screenshot below.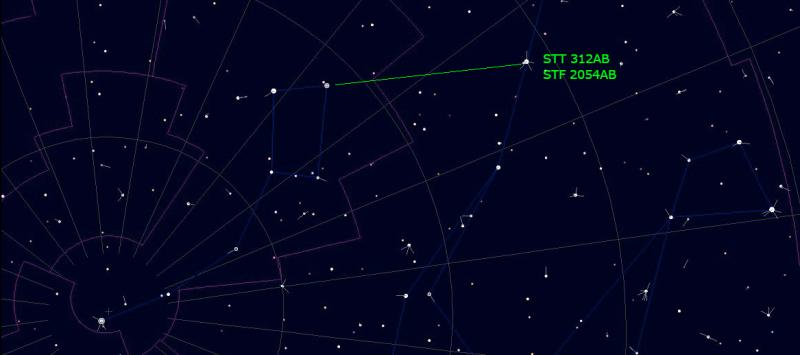 I like to start with the fainter pair, STF 2054AB which is a mere 12' due North of Eta Draconis. In 2017 this mag 6.2/7.1 pair had a separation of 0.943", which is in line with historical speckle data. At 345x, I saw two whitish stars of slightly uneven magnitude that were clearly split with dark space between the stars. I gauged the seeing by estimating how often the image sharpens to two distinct discs.
The 2nd Ed. of CDSA lists STF 2054 as a (2) + 1 triple, meaning the A component is really AaAb. Stelle Doppie informs the AaAb pair is CHR 138AaAb with a separation of 0.222" (1990)—perhaps those with larger glass can see this as oblong?
Moving on to the brighter object, Eta Draconis or STT 312 AB is where the fun starts. This mag 2.8/8.2 pair has a separation of 4.68" as measured by Gaia satellite (2015.5) Using the same eyepiece you used for STF 2054AB, try to find the faint secondary without prior position angle knowledge. It will be quite small and about 4.5x farther than the distance between the stars comprising STF 2054AB.
My first attempt at detecting STT 312 B required almost a half hour of moving my eye from averted to direct vision before I definitively saw the tiny speck of light corresponding to the companion. On a subsequent night, I found the secondary right away because I knew where (and how) to find it. The more steadily the diminutive B presents as a dot of light, the better my seeing. Of course, darker skies will also aid your efforts for seeing the faint companion.
STF 2054AB and STT 312AB help me gauge my local seeing and are fun to look at. Have you looked at these stars lately?
Edited by Nucleophile, 25 May 2019 - 06:30 PM.