I continue to test the Chroma OIII 3 nm filter and the results are very good indeed.
The last few nights have been fairly mediocre with only average transparency and on some clear evenings a gibbous moon.
I manage to obtain 15 20 minute narrow-band frames last night of M57 using the Baader 3.5 nm enforced filter and the Chroma OIII 3 nm filter. All are 50x50 mm filters. The telescope was the C14 at F7.7 using the Moravian G3 16200 at 2x2 bin.
Since I don't have the SII filter I was forced to use a bi-colour image so the colours are interesting to say the least but at least with narrow-band you can go with what you want within reason.
When the sky is much darker and with the SII filter I'm going to go to town on M57 but for now I'm just testing the capabilities of the filters I have.
I'm pleased that I get no discernible halos on the brighter stars and the star shapes look good for a 3 metre focal length with 20 minute subs.
As always let me know what you think & clear skies to you all. I'm looking forward to the dark skies coming back now my system is getting all the kinks ironed out.
Best wishes-Mark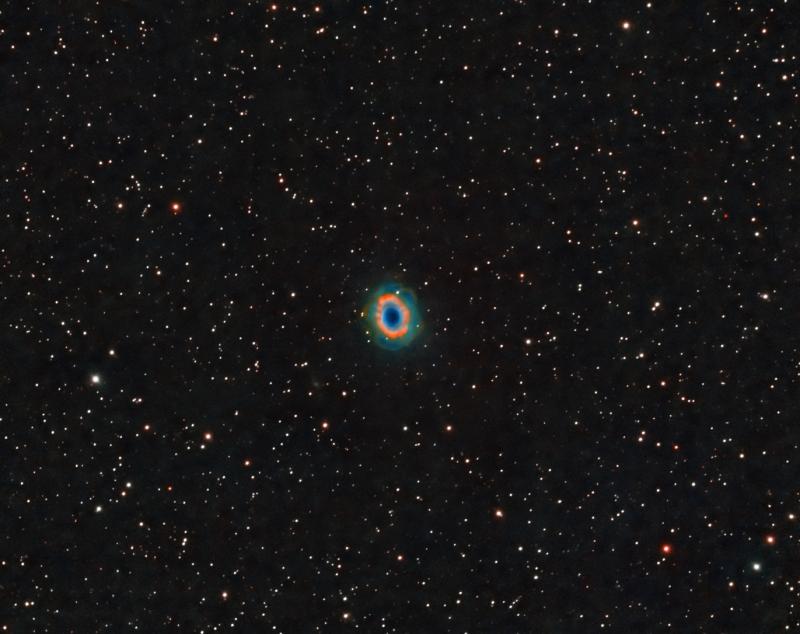 Edited by pyrasanth, 27 May 2019 - 04:07 AM.