The first adventure with SharpCap and had a few missteps.

Bottom line, it's nice and I have a bit to learn. Compared to SLL 3.3, I think it's more complex, but after a bit of fiddling, it wasn't too hard to get up and running with the live captures.
First, I tried to use the PA feature, detected plenty of stars but could never solve the capture. This ate an hour and a half of viewing time. I settled for Starsense PA. Which improves things, but the tracking with Starsense HC doesn't seem to be as good as the original NexStar HC. Using a polar scope and no ASPA I could track between 30 & 45 seconds with the original HC. I'm lucky to get 15 now with the Starsense HC.

But it does one great star alignment, and fast too!
At the very end of the session, I did figure out why SharpCap couldn't solve the capture. No plate solver was installed. ID-10-T error. UGH...

Thinking about dropping a note to the developer. The settings know there's no plate solver found. So it would be nice to have the PA function notify you that it can't find a plate solver.

The other thing that ate some time was I was going to do some LRGB captures of M57. And for the life of I couldn't figure out how to do it. I'm almost certain that I read it can be done, but maybe not for live stacking? If anyone knows how please point me in the right direction.
speaking of M57 here's a comparison between the lodestarX2 and ASI 290M mini on the same scope.
ASI 290M Mini
LodestarX2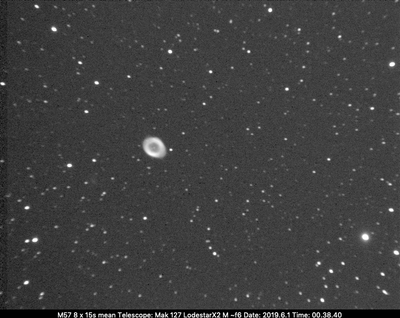 The other thing that ate a lot of time was trying to run SharpCap in a remote fashion with a mini PC running the scope. I was using StarryNight Pro 7 and while it didn't appear to be working the little machine over too bad, it was so SLOW. Click wait 5 seconds. click... you get the idea. I'm not sure what it is about the program that bothers me, but I'm not a fan. It's hard to fathom that this is produced by the same company that built SkySafari.
Also tried Cartes du Ciel, while it was more performant, it wouldn't connect to the mount via ASCOM. (this is probably user error too).
Tried Stellarium. While I want to like it, it's just too hard on the little pc and I find it a bit esoteric and not that user-friendly. Just my opinion, don't hate me if it works for you.

Please keep in mind these opinions were largely formed while I was frustrated with things taking 3 hours to get going before the first capture.
I installed Celestron's CPWI software after the session. I think I like it. It's the fastest, and the easiest to use - practically no learning curve. As long as you have internet, which in my case isn't a problem, the limited local astronomical DB isn't an issue. With online access to SIMBAD that crushes that deficiency. One wish is that it would allow the creation of a virtual port for ASCOM to connect over SkyPortals WiFi. It's new, so maybe a future feature. It'd be one less cable.

In my testing of CPWI, there was no issue with using the HC with the software. I did a quick align from the HC. Connected via sky portal to from CPWI and then did a quick align there too. I found that the mount could be controlled via the HC and CPWI without any apparent conflicts. NOTE: I was inside so and didn't do any actual viewing. I'll confirm this on my next session and see if it can be done with an auto starsense align.

It's late, I spend way too much time writing what isn't all that long in the end. Clear skies and I hope someone finds this useful or at least amusing!
Edited by bdyer22, 09 June 2019 - 11:27 PM.