If you "shoot" two images of Jupiter about 15 minutes apart, the parallax caused by the Earths rotation allows one to create two stereoscopic images. There are a few methods to "see" the 3d effect with two stereoscopic images, but I'll tell you my method first (then Google to find out other methods if you need to).
Sit back about 2 feet (60cm) from your screen, and hold your index finger out in front of you at arms length. With both eyes open, look at the tip of your index finger and move it so it looks like it is between the two images of Jupiter. Then do not stop looking at the tip of your finger, but at the same time slowly move the tip of your index finger from the screen towards your eyes while concentrating on looking at the fingertip. Your peripheral vision will "see" the two Jupiter images slowly merging into one in the background. When that happens, slowly move your finger down and out of the way and your eye's should see that single image "pop" as a 3d Jupiter. Don't forget that by clicking on the image below first, it will open up a slightly larger image in its own window. The larger image makes the effect even more pronounced.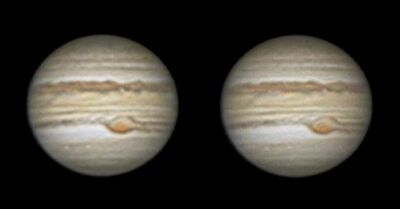 Edited by Howie1, 14 June 2019 - 08:44 PM.