I have a new 8" Celestron RASA that I have been able to use three nights so far. I have been using Newtonian reflectors for AP for years, but this is my first experience with a catadiatropic scope for AP. I am very impressed with the RASA, but it presents some challenges I have not encountered before. One such challenge is flats - until I get a dew shield, I won't be able to use my flat box, so I have been taking twilight sky flats, which I have done many times with my newt.
When using the Celestron LP filter made for the 8" RASA, strange artifacts appear in the flats. They do not appear in flats made with the AR filter that comes with the RASA, and they seem to only affect the twilight sky flats made with the LP filter - light subs made with the LP filter when the sky was dark do not show the artifacts.
Below are three images showing the issue. They were produced in PixInsight from individual flat frames, debayered, converted to grayscale and stretched: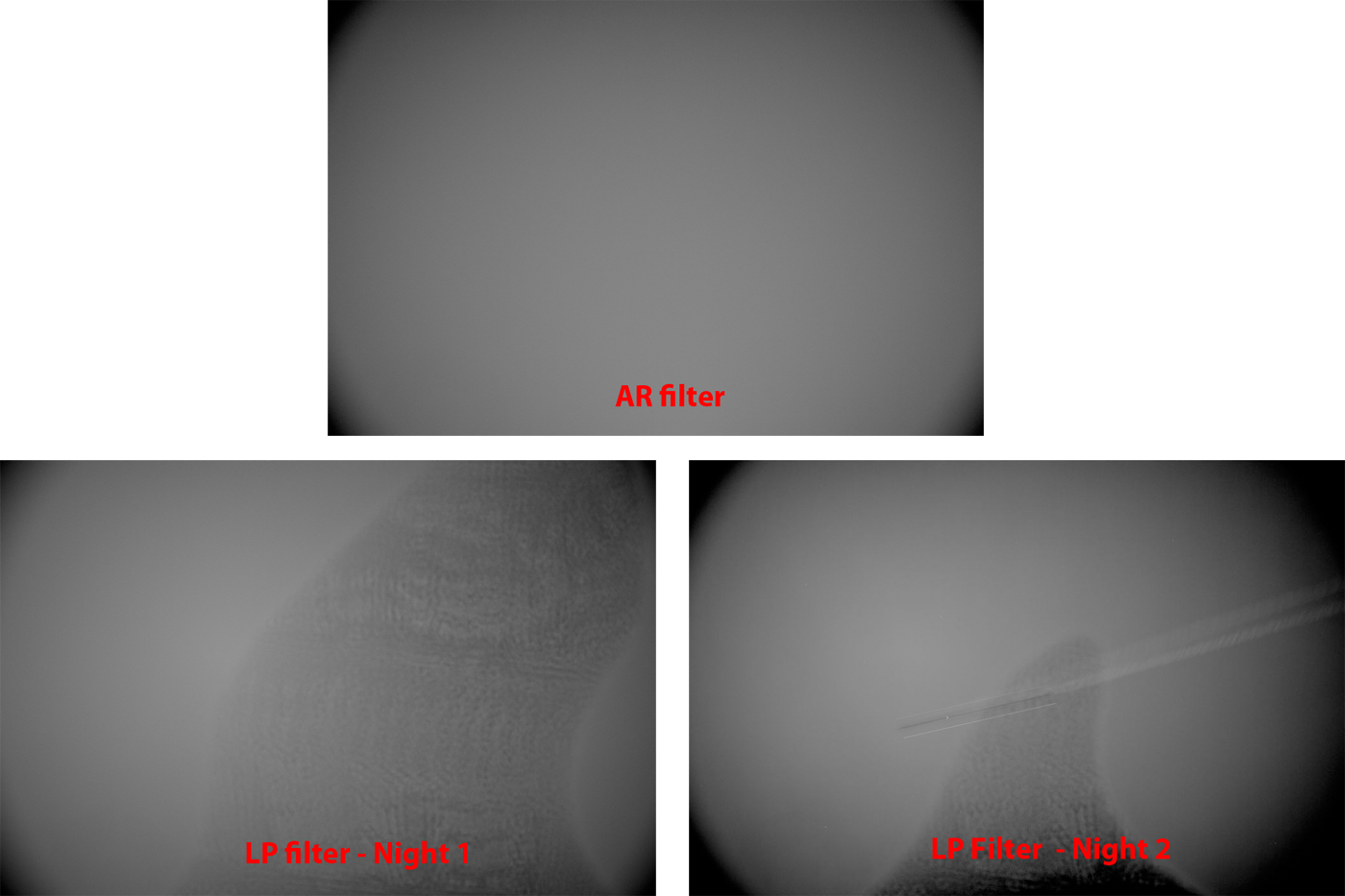 The first (top) sub was made with the AR filter installed in the RASA. It appears normal and the master flat made from this sub combined with 19 others worked well. The other two were made on two consecutive nights with the AR filter removed and the LP filter installed. These flats made with the LP filter were unusable. Fortunately, the RASA has such a naturally flat field that if your sensor and filter are clean, and you can do without the corners of the images, you barely need flats.
The camera sensor was cooled to 0 degrees C for the AR filter subs and the first LP filter sub, and it was cooled to -5 degrees C for the second LP filter sub. At first I thought the artifacts were caused by frost on the camera sensor, even though I had the anti-dew heater on, but I removed the camera and looked at the sensor. It was clean and dry. The LP filter and the Schmidt corrector plate were also clean and dry.
Has anyone seen artifacts like this in twilight sky subs, or any other kind of subs? I am inclined to believe there is a problem with the LP filter, though visulally it appears normal. I have not been able to repeat taking flats with the AR filter yet, perhaps will be able to do that tonight, in order to rule out the possibility that something happened to my camera or to the telescope after that first night.
Any ideas?
Cheers,
Don
Edited by DonR, 15 June 2019 - 02:58 PM.