As I understand it, one of the problems we face trying to stack short exposure subframes using scopes on Alt-Az mounts is field rotation and worse tracking accuracy (compared to equatorial mounts).
After some research here in the forums I found out that those problems are correlated to the amount of "apparent motion" of sky objects. For fixed targets (stars and DSOs, whose proper motion is almost imperceptible from earth with amateur tools) this type of motion is mainly caused by earth rotation and therefore depends on the position of the observer on the earth and the current position of the target as projected on the sky dome (East and West have slow apparent motions, North, South and everything near zenith has fast apparent motion). See this graph Astrojedi posted a while ago (
https://www.cloudyni...a/#entry7092459
) and this paper (
https://www.cloudyni...a/#entry7092230
) roelb posted.
So I tried to find a software tool that would allow me to plot the apparent motion during the planned observation time window of all objects I was interested in. I figured that with the help of such graphical plots I would be able to decide which targets would have low field rotation and good tracking accuracy with my Alt-Az mount and I could decide on the best viewing/imaging order of selected targets.
Turns out there is no such tool (or at least I was not able to find one). SkySafari does show "Apparent Motion" values under Object Info but there is no way you can plot changes over a defined time window. AstroPlanner can generate nice plots for a lot of parameters but not for apparent motion.
Solution? DIY! Based on examples from astropy (Python Library for Astronomy,
https://www.astropy.org
) and astroplan
(
https://astroplan.re...s.io/en/latest/
) I wrote my own script!

Here is an example plot for my last EAA session: (referring to
3rd attempt...
)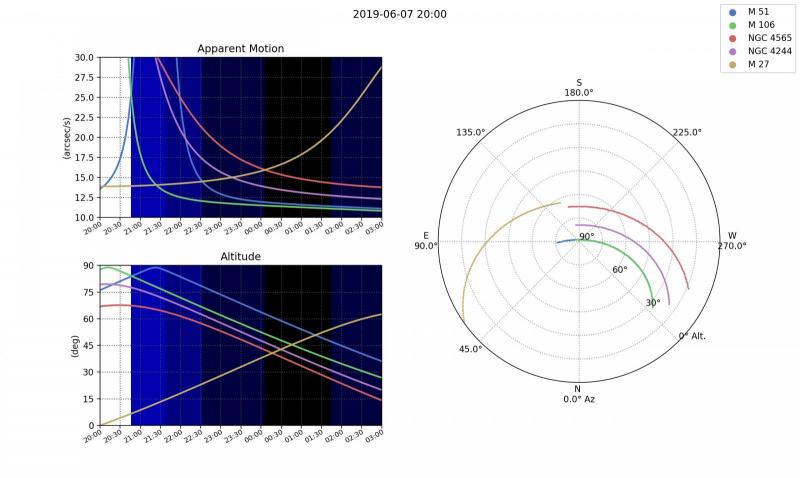 To use this script you have to insert your location (latitude, longitute, elevation) and your timezone in the script text (only once if you don't change your location). Then you adjust the start and end value of your observation time window. The target list is accepted as simple list ("M51 NGC 2903 …") and will be automatically resolved by SIMBAD (internet connection required).
Apparent Motion values below 15 arcsec/s seem to yield good enough imaging results, so I try to choose those objects and times that allow me to stay below this threshold.
It has to be said that this will only help you in refining your already existing list of targets, it is not suited as fully automated observation planner. First selection of targets still has to be done in advance (i.e. if target size will be a good fit for the FOV of your current setup etc.).
Thoughts, suggestions?
What is your workflow for selecting targets and planning?
Edited by Lorenz0x7BC, 16 June 2019 - 06:27 AM.