Hah! - what a mouthful of a title! Ignore the hype because not only is it a ploy to get folks to look at our website (one of the main reasons we have it!) but it's also a compliment to Pattie for all the hard work she does in organising & updating the site - when I get around to sending piks & texts that is - & of course she created the whole shebang & has kept it running from the very start!



Modesty aside I don't think there's too much hyperbole

...we were pretty satisfied with Mars during 2018 & Jupiter this year has been kind, despite the preponderance of clouds now...& earlier...even though we were gripped by drought in South Australia until May: we've had some "ringside seats" to the GRS activity & hopefully we can continue to garner more decent images of this particular activity as well as other vistas this apparition...the only negative has been the paucity of Saturn images which we usually take pride in capturing, this mainly due to tiredness from advancing age

which also impacts upon "double-sessions" of planetary imaging...hopefully we'll remedy the Saturn imbalance as time goes on this year - but we do have a nice panorama of Saturn images spanning 2011 - 2019 at the start of the 2019 page here: http://momilika.net/...urn2019Pics.htm along with a couple of other "passables."

Mars in 2018 might've looked as if it was going to be disappointing despite its apparent size & elevation when the near-global dust storm struck fairly early in the apparition - it did make the colouration of the images swing somewhat wildly at times due to varying amount of air-borne dust...but besides the seemingly obscuring effects of the dust on well-known features (as well as transforming these aspects) another effect was to pick out hitherto very difficult features such as a plethora of Martian craters - & of course some superb highlighting of the Valles Marineris' multiple canyons' labyrinth by virtue of floor coatings of lighter dust!
Multiple images of "The Red Planet" including a mono montage of the colour example I'll post in the next post of this thread...as well as those features mentioned in the preceding paragraph can be viewed in the Mars section here: http://momilika.net/...ars2018Pics.htm
The 2019 Jupiter images, as mentioned above have attempted to focus on the GRS whenever the weather & seeing cooperated: in our last thread I posted a "thumbnail" animation of a dozen or so images (reversing) of that night's captures...
The full-size (capture scale) animation seen only on our website gives a much better depiction, displaying the activity around & preceding the GRS activity well: I deliberately left some noise in these frames because (a) it is not so noticeable in a moving animation & (b) it gives even greater clarity to those areas I mention here; this animation is the 3rd image down on this page: http://momilika.net/...ter2019Pics.htm but there are also other animated images further down this same page.

Neptune, Uranus have been updated also although only one Uranus image passed muster in 2018 & Neptune was not so kindly treated by the seeing as it was in the halcyon years before then...but we are optimistic about this year!

This year was the first year we managed to capture cloud-banding on Venus...hitherto thinking it was possibly beyond my capabilities with an SCT even though I had seen some fine examples from others: the "key" being the awareness that very low histograms were needed to elicit their frail contrast on such a bright planet. No Venus page has been created as yet but it is "in the pipeline."
Coming to the start of this thread's title about "WinJupos myths" I'll use the CN filesize limitations to post a comparison of 4 images from the last successful imaging session on June 12th...the "no integration" stack is those frames used in a single 150 second capture of Jove with the other 3 using various frame numbers from varying consecutive captures - the longest timespan between start of first capture till the end of last capture being 45 minutes 46 seconds utilising 189,202 frames in toto...clearly this duration is no impediment to successful WJ integrations although I am not claiming this to be the "best" image outcome!
WinJupos does tend to "act up" as far as the "Automatic AF detection" function is concerned for Jove (or at least it does on my versions after a short time!

) such that the AF had to be manually set...this is no impediment obviously & an "LD" or "0.68" was employed for the uber-long integration...but none of this seems to have degraded any of the integrations whatsoever...
Regardless, there is all "much of a muchness" between all 4 images - they have all been treated exactly the same except for the final amount of noise reduction after reducing the 3x drizzled stacks down to capture scale...naturally the single stack required more denoise therein...I have my "druthers" but they are all moot considerations.
This is an 800x962 pixel image so will need clicking on to see it at the maximum any one screen will allow...as will the following Mars image. (jpgs for file limitations) The image below can be viewed at maximum scale on our website after clicking on the image on the webpage & then clicking on the image that opens up in another tab.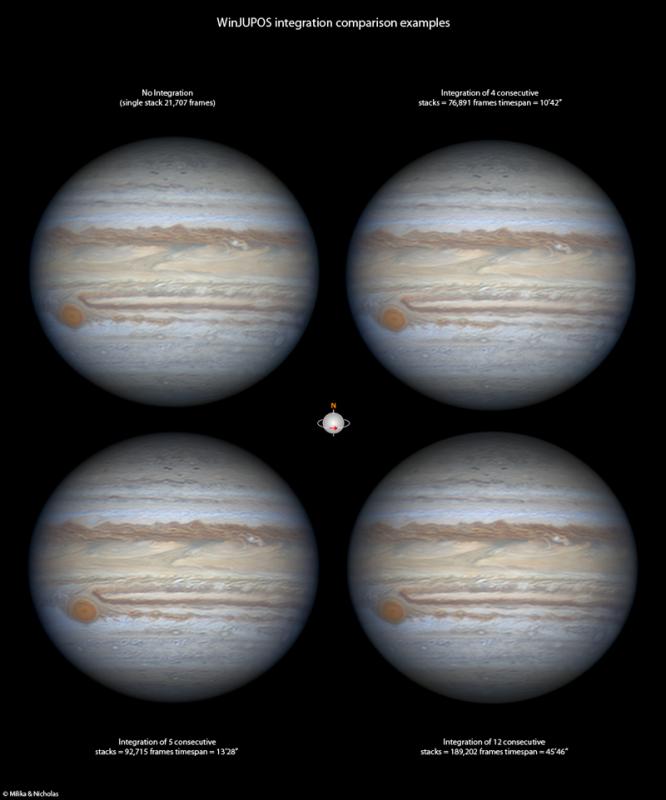 Edited by Kokatha man, 18 June 2019 - 06:05 AM.