I was out getting one of my first looks at Saturn a long while. It's still pretty low at about 25 degrees on the horizon before midnight in Pickering 5/10 seeing. A slight and rapid undulation across the disc. But, at 300x through an 8" f/6 there is still something to see. The disc and rings come to a crisp focus, no question when Saturn is in focus.
The equatorial zone is quite easy, of course. Not so easy is its very faint two toned appearance, probably the equatorial belt barely showing itself just above the C ring crossing the disc. The North temperate belt is prominent. At times, I get some feel it might be faintly divided, split, or two toned. Very hard to lock it down. The entire northern hemisphere is somewhat darker. But, I do get some periodic hints of fragmented brighter and darker swaths embedded across it. It's not evenly dark all the way to the tiny smudge of a polar cap. Probably just barely seeing some temperate belts and zones trying to peak through.
So, one (NTB) belt and one (EQ) zone for sure with some hints of the EQ belt and a temperate belt and zone. So, potentially 3 belts and 2 zones. A better night should show them better, I hope. It's very hard to accurately sketch the fleeting very low contrast features...this is the best I could make of Saturn and try to convey it as difficult. Colors, meh...not sure. Lacking something, not sure what.
The C ring is seen across the disc and, amazingly though difficult, near the inner ansae of the rings. It has a beautiful almost silver hue to it. It's not as clearly seen as it was years ago when Saturn was closer to the tropical zenith in much better seeing. The B ring is darker in the inner perimeter and brighter at it's outer perimeter. Cassini is seen nearly around the rings and quite prominent at the ansae. The A ring is noticeably dimmer, but I saw no hint of the Enke minimum. Again, the Enke minimum was easily seen years ago when Saturn was better placed. I looked for the bright inner A ring bordering Cassini, but I could not really see it.
Saturn was kind of in the muck, but it was still showing some stuff. Not as well as it did years ago, but still quite striking. Need a little better seeing. If the monsoon remains mild and little rain, might get a few peaks between the clouds in the weeks ahead.
Of course I observed Jupiter quite a bit, too. One striking thing is the festoons do not seem to be as blue as they were in the past. Maybe it's a contrast thing with the prominent tawny hue of the equatorial zone, but they simply looked to be much darker tawny features sweeping into the EZ. Just me?
Oh, please ignore the shallow tilt of the rings and the southern hemisphere. This is the closest template I had to work with. After trying to make my own, this template had to do. Thanks.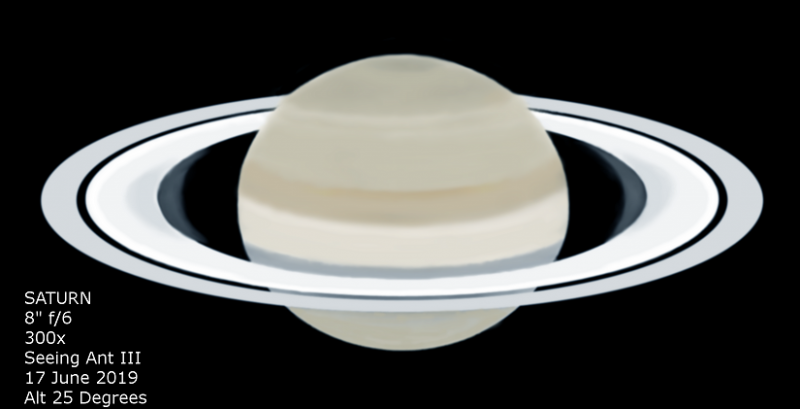 Edited by Asbytec, 20 June 2019 - 11:30 PM.