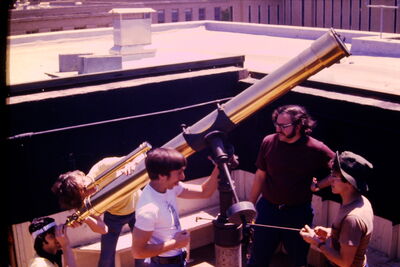 Five of the nine graduating seniors from the Penn State Department of Astronomy at the end of finals in May of '76. (Six, including the photographer, who might be along here shortly). They're in the rolloff observatory atop Buckhout Lab with the 6" brass refractor they rescued and restored during the school years 1973-75.
The spot where the observatory was is now full of air conditioning equipment. The scope was moved to a new club observatory for a number of years, but as far as I can tell, no one knows its current whereabouts.
Sic Transit Gloria Mundi and all that, but crap, I was club president and led that restoration and I want to know where it is. That's me in the yellow tee shirt at the finder.
Edited by Tom Dugan, 23 June 2019 - 01:39 PM.