I was able to capture this back on March 4th as Mars passed near the Pleiades. Acquisition info below.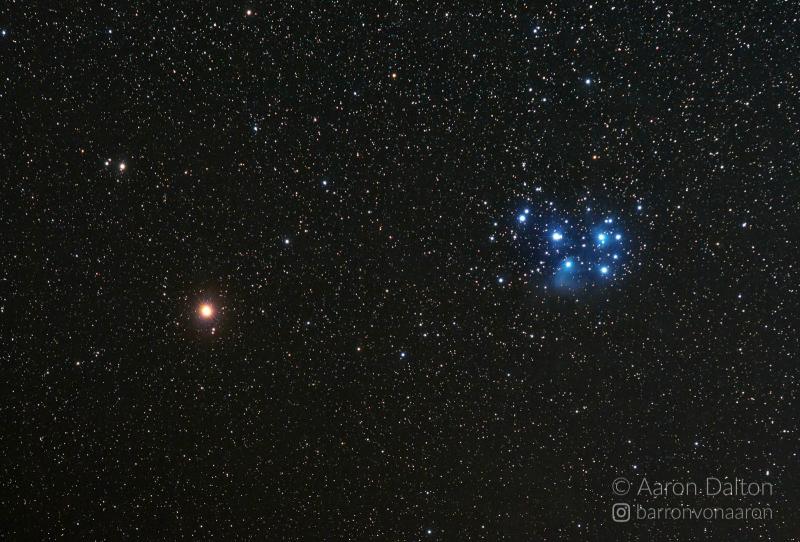 Setup:
Camera: Stock Canon 80D
Lens: Sigma 70-200mm f/2.8 USM @ 135mm and f/5.0
Tracker: SkyWatcher Star Adventurer on Manfrotto tripod
Accessories: dew heater on lens, DIY Bahtinov mask courtesy of a Folgers can, remote shutter release
Acquisition:
Lights: 83 x 147" at ISO 200 into DSS, best 80% = 66 stacked, **1 hour 37 minutes total integration**
Darks: 32 x 147"
Bias: Master bias
Flats: White T-shirt method x 32
Editing:
Sorted and rejected shots in Lightroom.
Stacked best 80% in DSS
Imported to PS
Crop out bad edges
32->16 bit
lots of incremental levels adjustments
set gray point in levels with 11x11 color picker
curves
create synthetic flat by removing targets and using Dust and Scratches filter, apply to image - subtract, masked out some areas
more curves and levels
saturation and vibrance
save 16 bit tiff
Import back into Lightroom
aesthetic adjustments like slight color tweak, highlights, clarity, noise reduction, final crop
export jpeg
This was a really fun project and I was surprised at how well it turned out!