Thank you Matt Looby for the GRS heads up!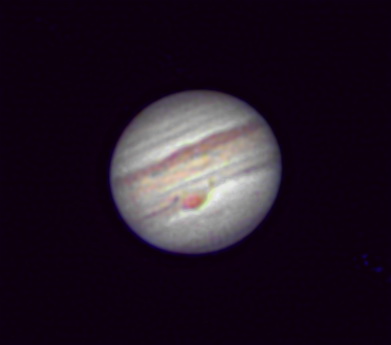 The captures in this RGB composite ranged from 11:17 to 11:25 pm EST (that's 03:17-03:25 UT).... you guys are welcome to decide if the S&T app saying 11:18 at the meridian was right or wrong.
This was my first planetary attempt with a mono cam; I used a lot of technique I've been using for solar.
Questar 3.5"; QHY5III174M; TV 2.5X Powermate; I shot 400 frames at a time at around 80 ms with various gain settings; AS3 best 40% R and G channels; best 15% B (clouds rolled in before I could finish blue); assorted steps with PIPP, PI, ImPPG, RS6 (kitchen sink processing!). From my yard in Yonkers, NY.
I've got a bunch more data to process from last night and will post a variation if it is materially better.
Regards,
Mauri