I have just completed (less a few cosmetic additions) a new Field Battery Supply for my imaging setup. It is an evolution of my older unit I built almost ten years ago. That older unit used a 60 Amp-Hour Spiral AGM Optima battery. Unfortunately the whole field power box weighed about 65 pounds. It provided two separately switched "halves" with four 12 volt automotive style power outlets. The old power box has served me well but after ten years of use, the Optima battery has lost more than 40% of its original capacity.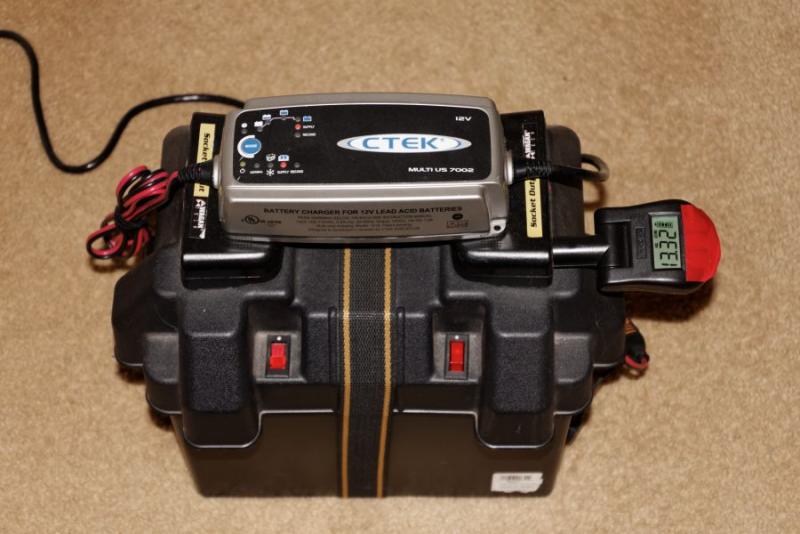 Photo of Older Field Power Source (with CTEK charger).
I wanted to add some features to my new Field Power Box. As before, I wanted to include two separately switched "sides" for power outlets. In addition, other features I wanted to include:
Safety Master switch for the whole power box.
My previous box had the power switch(s) accidentally turn on a couple of times during transport when I had too much other equipment loaded into the car. Other equipment could bump against the rocker switches during transport. Although nothing was connected to the outlets during transport, I always felt this was a safety concern. The new box includes a Keyed Master Power switch for additional safety.

Safe LiFePO4 battery technology.
I chose a BattleBorn 100 Amp-Hour battery for this new version of field power supply. In addition to being the reasonably safer LiFePO4 technology, BattleBorn appears to have (from their detailed specifications) a more robust BMS (battery management system) built in. Their batteries (and BMS) can also be safely charged from a normal automotive charger.

High overall battery capacity of ~100 Amp-Hours usable.
BattleBorn rates their batteries as the deliverable capacity rather than the raw total capacity of their cells. In other words, their 100 Amp-Hour batteries will deliver 100 AH of usable capacity even though the BMS still holds back a reserve to keep from damaging the cells. Many other similar batteries rate based on per the cell total and thus a 100 AH battery may only deliver 85 to 90 AH because their BMS holds the rest in reserve.

Battery condition monitor so that total power usage from the battery can be directly read.
Commonly used battery monitor which reads Voltage, Current, Watts, and Cumulative Capacity Used (Watt-Hours).

Separate Fused Charger Pigtail.
Like my previous power box design, I included a hardwired pigtail connection for my external charger. I use a NOCO Genius 7200 charger for this battery whereas my previous Optima was hardwired for use with my CTEK 7002 charger.

Two separately switchable regulated voltages -- ~12.6 volts and ~13.4 volts.
I wanted to use about 13.2 to 13.4 volts for most of my astronomy equipment. In addition, I wanted to have 12.4 to 12.6 volts available for "computer" equipment that is subject to a 12v +/- 5% specified voltage range. Each regulated voltage powers 3 separately fused outlets at the back of the box.

Real-time display of current and voltage for each regulated voltage.

Two high current outlets at nominal battery voltage.
These two outlets are used for higher current (or noisy) accessories. I will use one to run my laptop and the other to run dew heaters (in the future). (Noise feedback from either is isolated from the regulated voltages above.)

Two USB 2.1 Amp charger ports plus one high power USB QuickCharge 3.0 port.
I have a couple of accessories that use 5.0 volt power while imaging and wanted USB ports to power those. I also wanted to include a QuickCharge 3.0 USB charger port for my cell phone and tablet, if needed.

Separately fused outlets for regulated voltages.
I wanted to add separate fuses on the regulated voltage outlets so that a single blown device fuse would be less likely to crowbar the power supplies and drop power to a whole side. Hopefully, this will provide a more controlled, graceful shutdown of the power system in the event of a power fault.
Below are two photos of the (nearly) finished unit. I still need to add a few minor touches like Velcro seals to hold the top of the box on more securely and red taillight tape to dim down the voltage displays and Battery Monitor LCD.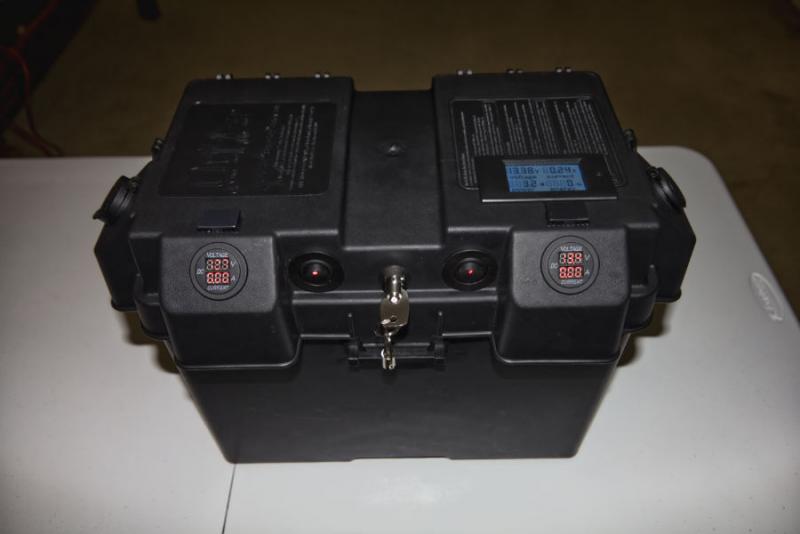 Photo of (nearly) Completed Field Power Box.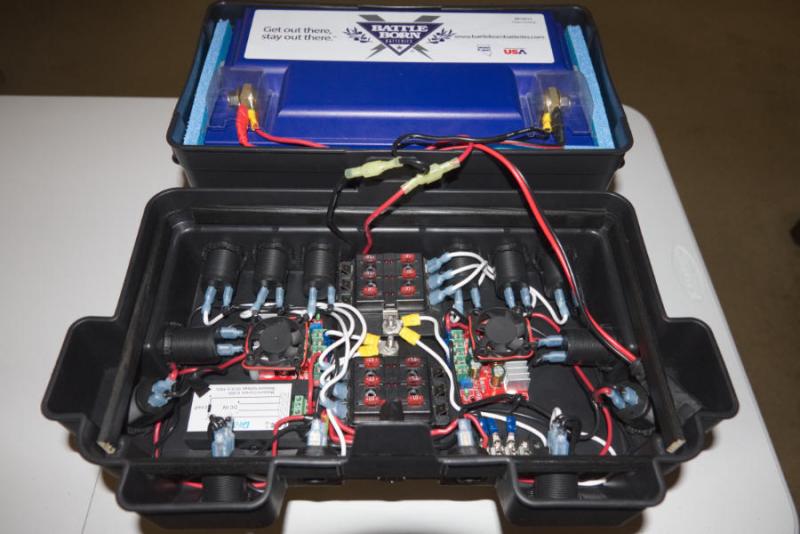 Photo of Internal Components and Wiring of Field Power Box.
I am currently load testing the power box to make sure the CPU cooling fans I added to the regulator modules are sufficient to prevent thermal shutdown at maximum current. There is quite a bit of spare air space in the top already and I can feel a slight breeze when at the side louvered vents when power is on. If thermal shutdown is found in my stress testing, I plan to add one more fan to bring in air at one of those vents and let it exit through the others for additional cooling and circulation of outside air into the box.
Because of the fans, synchronous DC-to-DC converter / regulators, battery condition monitor, and USB power ports, there is a steady state no-load parasitic draw on the battery of 0.25 Amps when the unit is powered on. I am satisfied with that since I still have enough power for my whole imaging set-up to run for about 20+ hours. That will typically get me through two to three nights of imaging.
I do like the weight reduction accomplished by using the Lithium battery. The weight of the new unit is about 1/2 of the previous power box and yet has more than 3 times the power capacity. The biggest downside is cost. In addition to the cost of a large LiFePO4 battery, the two synchronous DC-to-DC converter / regulators, voltage current monitors, battery monitor, and USB chargers all added up to an expensive project. I should easily get at least another ten years of use from this new Field Power Box.
John
Edited by jdupton, 26 June 2019 - 11:13 AM.