Guide-scope on custom CNC-machined Side-by-Side & in-line setups
Part One: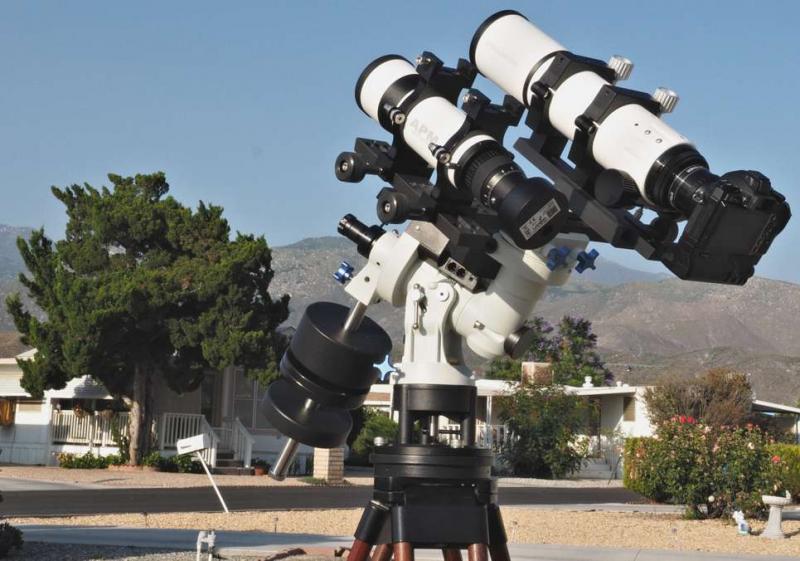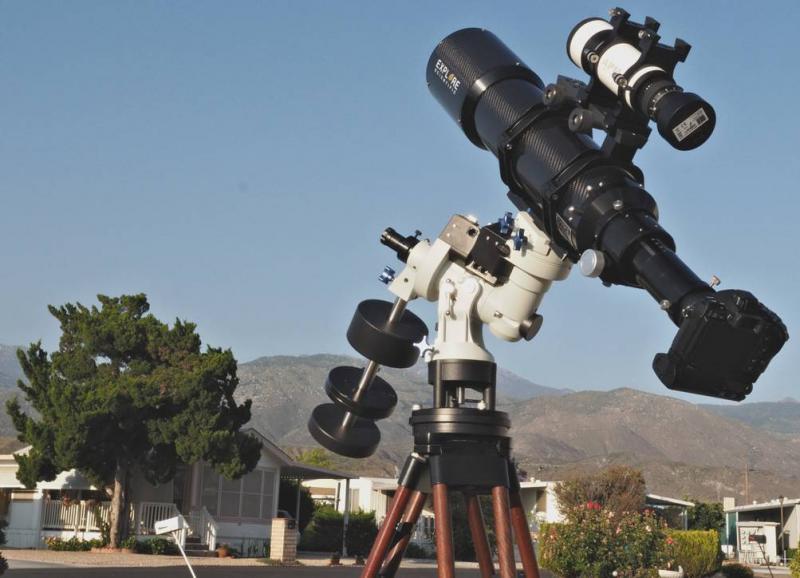 One year ago, I posted some comments in this thread:
https://www.cloudyni...g/#entry8669532
...about my fruitless search for some 63mm ID clamshell rings, for a 60mm APM guide-scope that I intended to purchase sometime in the ensuing six months, along with a Lacerta M-GEN II auto-guider. At that time, using an ES 102CF refractor on an iOptron CEM25P EQ mount, the limited amount of astro-photography I had done had all been 30-second unguided subs, and I was becoming interested in finding the means to attempt longer, guided exposures.
However... having spent countless hours reading threads about the various flexure issues associated with guide-scope mounting, I felt that perhaps a significant contributor to that flexure was the generic use of dual three-point mounting rings, the vast majority of which utilize plastic- or nylon-tipped positioning-screws. To me, the logical solution was to simply use a pair of "clamshell" rings, instead.
Unfortunately, as I'd explained in my post, I'd been unable to find any commercially-made clamshells that were the necessary 63mm in diameter.
A few days after I'd submitted that post, C-N member Anurag Shevade -- who resides in Mumbai, India -- PM-ed me, explaining that in his spare time, he liked to design and fabricate CNC-machined parts for astronomical instruments, and hoped at some point to become a vendor of such. He further explained that he happened to be using the same APM guide-scope that I was going to buy, and that it had been his intention to make clamshell rings for his own scope. He offered to make a pair for me, as well... based on the mutual understanding that due to a variety of circumstances, it might well be six months or more, before the rings would arrive at my door.
As things turned out, I didn't take possession of the guide-scope or guide-camera until this past February, and I received the clamshell rings shortly thereafter. In the interim, Mr. Shevade had finalized his own wishes, and had become an authorized vendor, doing business on Cloudy Nights and in the public domain as "Starfleet Astrosystems".
Having maintained communications throughout the intervening months, the contents of my initial order had grown considerably... the end result of which, is that I now have an incredibly versatile system of mounting-accessories that enable the effortless and tool-less setup of the APM guide-scope on either a customized inverted-Vixen handle on the ES 102CF refractor, or on a custom CNC-machined side-by-side setup with a Stellarvue SV70T.
An initial complicating factor in having Mr. Shevade design the clamshell rings, involved deciding where and how to mount them on the ES refractor... realizing that at some point in the future, I may have other scopes on which I'd also want to mount the guide-scope. It was at this point that it became obvious to me that his work-ethic is one of full and unlimited cooperation and collaboration with his customers. Over the course of the ensuing months, my initially simple "setup" became a full-fledged "system"... the basis for the design of each custom CNC-machined element being a series of fully collaborative discussions between us, consisting of my needs and desires, combined with Mr. Shevade's incredible ingenuity and engineering expertise.
The final results of this enjoyable and rewarding process are shown in the initial photographs, above. The details of the separate pieces, and the logic behind their design and arrangements, will be shown in the remainder of this multi-part thread.