I'm still a beginner sky watcher compared to the majority of you with a year behind a scope so this is my short comparison.
I have mostly Celestron eyepieces. X-cel and the three 1.5" Luminos eyepieces. I like the idea of using a zoom. I purchased my 1st Celestron Zoom for my 8SE in November and my second one in April for my ETX-90. The Celestron have been a good eyepiece for me even though it has a narrow FOV. Clear views, semi - parfocus. I've been satisfied.
Yesterday I received a new Baader MK IV Zoom. During the summer I only have access to my ETX-90 but it gives good planetary views in the Bortle 6 skies here at the NJ Shore. Last night was a great chance to do a quick comparison of the zooms looking at Jupiter and our Moon.
First up was the Celestron Zoom. I observed nice clear views of Jupiter and it's 4 moons. Nice banding on Jupiter. Slight adjustment on the zoom when fully zoomed in. Then I put on the Baader Zoom.... The 1st thing you notice is the FOV. It is noticeably wider than the Celestron. The 2nd thing you notice is has more contrast than the Celestron. Zooming in is pretty much the same. I still has to adjust the focus slightly when zoomed fully in. The view though was definitely sharper I swapped the eyepieces a few times and the Baader was the winner.
Next up, the Moon. The moon is 1/2 full so I expected good views. Again, I put the Celestron zoom on 1st. Nice reliable view I'm used to. The edge of the views are never as sharp the center but I've been happy looking at the Moon with this eyepiece. Then, I put on the Baader zoom. The difference is very noticeable. It looked like a stacked image. The plaines just pop and the craters contrast and shadows are vivid.
At this point I had a few guests look through the eyepieces and they all thought the Baader was better
Now, I can't wait for fall when I can use the 8SE and the new Zoom in Bortle 5 skies. The Celestrons will be good for star parties with the ETX-90.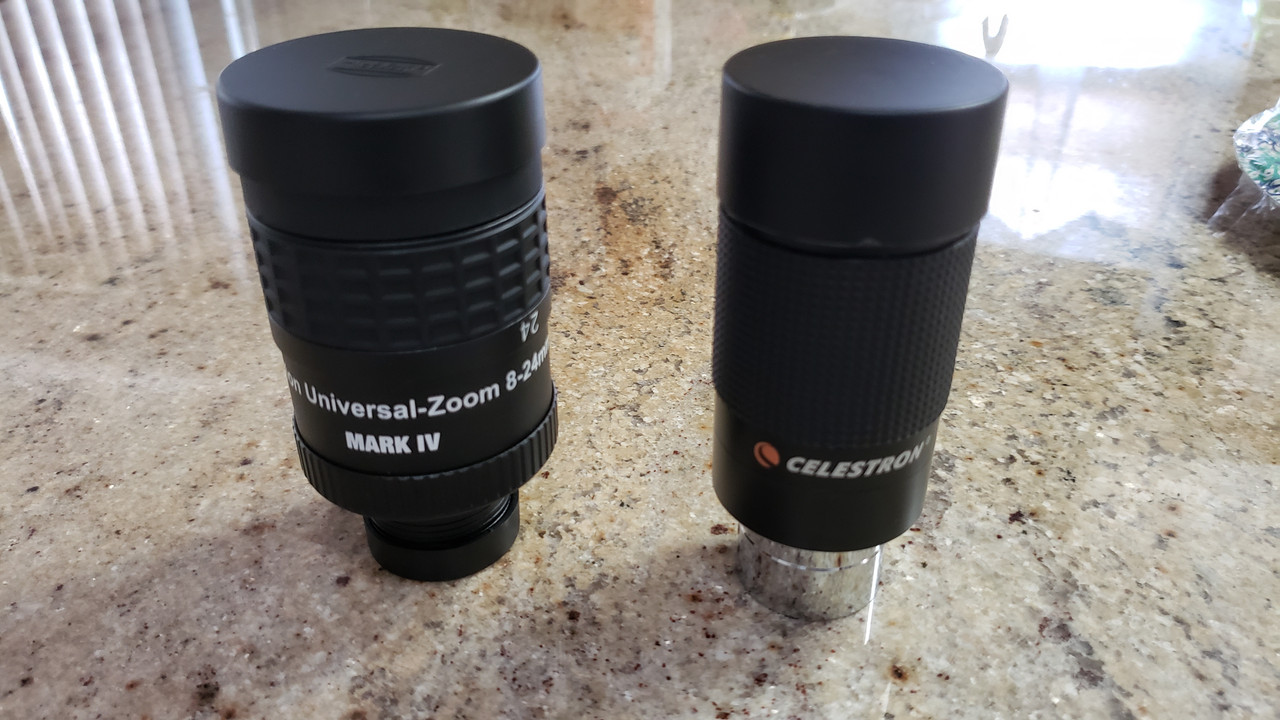 Edited by BigKahuna, 09 July 2019 - 09:51 AM.