Wondering out loud whether or not there would be any tangible advantage to having a 17lb. (including 2" diagonal and various 1.25" EPs) 125mm APO doublet versus a similarly tricked-out 10 lb 102mm APO doublet (both in the f7-f7.5 FL range) if living under consistently Bortle 6-7 skies approx. 35 miles directly SW of NYC. For the sake of discussion, let's say the scopes in question are the Stellarvue Access 102mm FCD100/lanthanum and the Stellarvue SVX125D Premier Refractor with the FCD100/lanthanum doublet. I don't want this to turn into a flame war about the merits of Stellarvue.

The discussion could easily revolve around Takahashi 4" vs. 5" doublets. Said scopes would be securely mounted on the vintage Vixen Polaris mount pictured below riding on a 1" Azek weatherproof board, affixed to a 10" square pressure-treated wooden pier with 3/8" leveling bolts, with the pier sunk 4-1/2' into the ground (with concrete footing).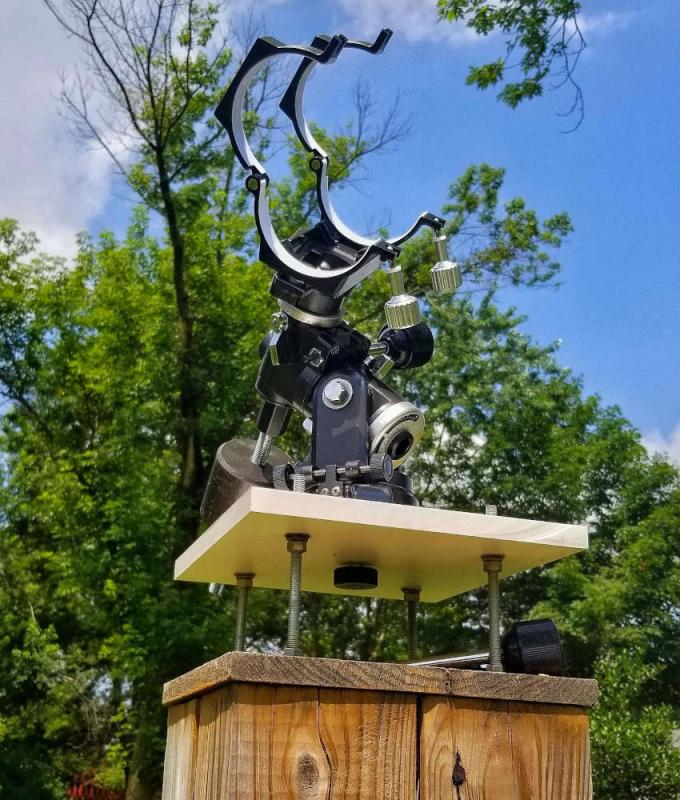 Given the fact that on a clear night of approx. 40-50% humidity when I look towards the zenith near Vega, I can just barely make out the constellation Lyra, would there be any merit in a 5" vs. a 4" for visual observing? I can see Polaris, but not the rest of the Little Dipper. Viewing is limited by the aforementioned Bortle 6-7 skies to the Moon and planets, plus the rare DSO. The light dome from NYC is easily visible to the northeast and my neighborhood is illuminated by those pesky orange mercury-sodium streetlights.
(Must...not...buy...pellet...gun

)
Thoughts? The more pragmatic side of me says go with the 4" APO and buy a 7" Orion Mak OTA.