Finally my Esprit 100 arrived

, I still haven't been able to test it because the weather doesn't cooperate.
What I want to do in the meantime is to install a focus motor. I already have the Sesto Senso, so I intend to use it. This is installed on the fine adjustment knobs.
To do this you have to remove both the large and the small knob. In the case of the small knob it is easy, because the hole is in plain sight (2), but in the case of the large knob, where is the hole in which the fastening screw goes? Is it the one marked as No. 1 in the photo or is it located under the rubber grip (No. 3)?
I don't want to break something, so I prefer to ask first.
Thank you,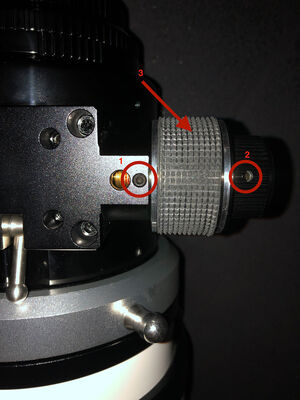 Edited by Marcelofig, 15 July 2019 - 11:03 PM.