At this point, thanks to the great community and help here on CN, i've gotten 90% of things straight on my build and its starting to move forward (from my other topic specific threads). So i'm going to document the process and what i ended up doing as we go along here.
Background:
I live in the suburbs in a Bortle 5 sky zone (i think 19.8 magnitude or so on the scale), mainly due to a small shopping center pumping out light to my East 2 blocks away. I'm blocked to the direct west by trees (i can catch venus at certain times of the year in the west next to the trees though). To the north there is another smaller lot that puts up a bit of low angle light, but higher up its fine.
It had become clear we probably werent moving for at least 5-10 years, with multiple kids in the same district for awhile at least, so it made more sense to just go for it from the current house.
Here is a pano shot looking due S (east to the left, and WSW on the right):
This is where i've been setting up the scope day after day, looking north (that light above their wooden fence does minorly light up part of the upper yard, which i might try to ask them about, but most targets arent North):
The light at dark:

And looking south (i dont think my pool light hurts anything from that low level):
So all that said I opted to go for the NexDome. I looked at other options, but it was the most economical for what it can do, with its higher walls, light blocking and cheaper overall to automate (which i will at least automate the dome portion within a few months).
I decided i would do a 12x12 wooden deck as the flooring, along with a pier in the ground (concrete) extending up through the deck and isolated (24x24 footer).
Here is a shot when i first began manually digging/leveling the ground:
I initially thought i would do concrete above ground preformed blocks so i could just pick up the deck and take it when moved. I decided that wasnt practical and I was concerned about any movement. In SW PA the winters can be harsh.
So the digging commenced further and now I have things mapped out and dug. I'm still debating if ill slice the steep cliff edges of the surrounding grass to all landscaping material and rocks to lay there, or just leave it straight up and down (leaning towards slicing).
I'm a little concerned about draining coming from the back end rolling down under the deck, so i might create a channel 1 foot wide maybe 6" deep with rock/landscape material straight under the center of the deck out the front.
I have a ton of excess dirt. I may put up an add for free fill or get my contractor relative to take it away.
Here is the layout with some lines to show things:
Here is the pier footer so far, dug down about 2.5 of 4 feet (manually, it wasnt that bad till i hit clay, i will be able to finish by hand though)
The pier footer will come up to meet the deck surface at what I estimate to be around 14" high off the ground.
To make the footer ill use 3/4 plywood sheathing from lowes x 4 and hold it up using a few rebar pounded in the ground (unsure what to do about the corners leaking concrete, maybe nailing the corners together).
We have pretty easy going city codes, so i didnt need to worry about the frame being 12" or even 10", however, i went with 8" and for a low level deck really is plenty though you will get differing views out there.
The base of the frame will be about 4" off the ground, and that makes it 14" above ground for the 5/4 board on top (decking planks).
Here is a rough layout of the deck and joists. I wont have double boards on the two sides as shown and probably not double near the pier either, otherwise the same, 16" on center for each joist. (there will be a post on each side of the middle area as well). I'm aiming for at least a 2" spacial separation around the square area where the pier comes up through and use foam to fill the void to prevent critters.
Here is the list of materials used for the deck:
2x8x12" framing board and joists x 14 (so 10 for joists/boxing in the pier area)
4x4x8 x 4 for posts (which ill dig down 2 feet which should be good enough, yes 4 foot is the frost line but our bigger pool deck only went down about 3 feet with 4 foot high posts and its been solid; i plan on wedging the posts in the hole temporarily and putting on the 2x8 board making it level and then adding 1/2 the hole with high strength quickcrete and then about 4 inches of water/1 gallon and let set making sure plumb) Ill do the frame on 2 sides so i can lay a 5/4 board across to get the exact deck level to be able to add the frame for the pier footer.
I plan on using about 10 posts, maybe 3 on each of the sides and a few near the pier area.
5/4 x 6 x12 footers x 27 **for the decking. There is debate here, once i have it up with the dome, i might consider laying plywood ontop of the 5/4 to seal off from critters and then use the interlocking foam mats everyone uses for flooring, along with rubber padding along the edges of the dome, as well as caulking on the outside of the dome (the 27th is a spare)
60lb high strength concrete mix (again, using 1/2 bag in each post hole)
2x4x8 x 4 : for creating a frame around the pier to pour the cement and keep it straight (pvc pier) and one piece to tap at the concrete as its being poured in.
3/4" plywood sheathing 2x4 x 2 (for making the box around the pier 14" high)
2x8" 18 gauge triple zinc joist hangers x 16
EDIT: galvanized steel should be used, so these x 16
Deckmate 3" ceramic 5lb screws (for screwing in joists and for the 5/4 boards up on top and temporary hold screws for posts before carriage bolts before cement)
1.5" joist/framing nails galvanized 1lb
0.5" hillman 8" carriage bolts and nuts and washers :
At each post ill use two carriage bolts one above the other for support.
Steel rebar ties (for making hoops/loops around the rebar cage that ill make out of 4 rebar)
4' rebar x 8 : this will be for 4 rebar each, a cage down in the footer hole (which will only make it to the edge of the surface) and also for inside the PVC pier which will start 3/4 the way up and extend out 1 foot down under the pier tube and insert into that 14" area above ground
Hillman 5/8" x 12 L bolts: These are for the mounting plate going down into the concrete, with the plate about 1" above the PVC so there is room to tighten the nuts.
Hillman nylon lock nuts (zinc): x8 unsure if just these and washer or the standard nut + lock washer + washer (i didnt see stainless steel at lowes, my closest option around)
Hillman 5/8 split lock washers x8
Hillman 5/8 standard washers zinc plated? x 8
PVC 12" diameter for the pier and 4 foot long initially: Online there are some sources that will ship, as cheap as $139.. I found a local source and it was $61 total for 4 feet, likely cutting it to around 42-43" (maybe with 1" submerged into the footer, unsure)
Possible flooring options:
On top of the 5/4 board:
The plywood yellow pine PT or PT regular
or
Interlocking tile option $39 12x12 qty 10
96 square feet walmart foam tiles $69.99 (most likely will go with this)
Wall foam along the floor and or insulated on the nexdome walls: Harbor Fright "workbench mat"
Now onto the mount + mount plates:
So i've opted to go with the CEM120 mount, for future proofing.
Right now yes i have just an 8SE plus eventually a guide scope, but in the next 1 year i plan on going 11 edge + hyperstar F2 + maybe a 130ish mm refractor for mostly optical
This will be my first GEM so ill be learning alot quickly.
The CEM120 is a beast of a mount, supporting 115 lbs payload. I looked at hdx110 and other options, even the CEM60 before opting for this, based on payloads others have ended up at (beyond 50 or even 60lbs in some cases).
There is a mount plate diagram online and it looks like this.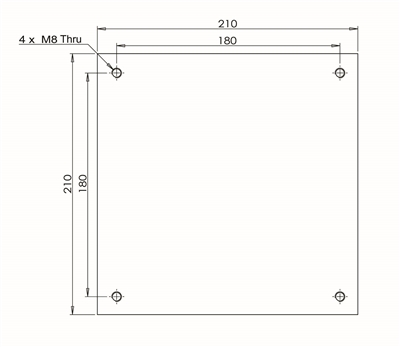 It boils down to the plate itself being around 8.25" x 8.25 (diagonal around 11.67"). So the points of the square will be very close to the edge of the 12" pvc.
I'm still weighing options, but I will likely go with a single plate solution, putting the L anchor bolts somewhere at around 1.4" - 1.6" from the edge (maybe 4 of them), yes this is closer than the recommended 2" edge to bolt edge, however, being as the cement is in PVC it shouldnt be an issue.
I'm either going with 3/4-1" aluminum #6061
Or 1/4 or 3/8" steel a36
So the next things coming are, the cem120 and a temporary $129 ioptron adapter plate to use a template is inbound, meantime ill begin to sink 4 posts in the ground and finalize the pier hole/footer boxing. Note you could use the $129 ioptron adapter plate directly on top instead of the a36 steel disc option, probably using turnbuckles in place of the nuts they have in the adapter plate. I've decided ill just go for the 12" disc however, drilling the holes in it.
I checked on cement pricing for 22ish bags of 0.64cu ft high strength (4000+) cement + renting and delivery and its around $220, i found a local delivery truck for $280 and i'm going to go with this.
First i need to make sure the mount is done (need to order the plate and drill the appropriate holes, straight through using only nuts/washers) and then size up things to determine the pvc height (pier height).
The nexdome recommended height is 53" from the ground to the center of the ota as in this photo:
My mount should be about 9.4" at 40.5 latitude from the base to the top (though seeing photos i really think its much higher than the number ioptron gave me).
I also need to make sure the mount plate is set with true north in mind (still need to check on that, if its not just aimed at polaris).
Other things I have to do is rent a ditch witch and run roughly 120 feet of electric from my garage breaker box to the dome / deck area. I figure on doing this before all the floor boards are in place and try to trace a circle on the deck so i can put the first junction point for electric / data at one corner, though i'm unsure whats best there, or maybe just to the corner of the deck in a weatherproof box for now, then breakout from there to the pier.
Ill run electric (10 gauge?) 120v in electrical conduit (i assumed it had to be the grey stuff) and the data (3 gigabit runs) in 1.5" or so standard pvc (same ditch just spaced apart). The gigabit will make things like teamviewer a little more responsive than my wifi can be.
I'd like to figure out gig to usb, but nothing in 3.0 seems to exist or does but costs $1k.
My office space in the house is where i can run everything from, especially on cold nights.
I've been using a laptop and leaving it outside for now and might still do that in the dome, but eventually i'll probably get an i7 Nuc and leave it in the dome 24/7.
EDIT/update: added info for the nails/deck screws for completeness.
More to come.
Edited by markm75c, 18 July 2019 - 11:53 AM.