Gday Sasho
i agree that calibration by itself shouldn't cause "isolated" excursions as large as the one you show.
That said i note 4 things
1) there is no reasonable length unguided data set to get a datum from
2) In the last trace, virtually ALL guides in RA are now small but in one direction only ( ie you have lots of RA drift )
The lower "PEMPro generated" plot appears to agree here??
3) The single major excursion in the last PHD log occurred immediately after the RA guider issued an East pulse
ALL pulses up til that point were small and west
After the single East Pulse it went troppo, and this lines up with several plots that DerPit has posted recently
If you look at the first short trace in your PHD log, you will also see that you got a mix of E and W pulses
and it stayed unstable whilst that was happening. All good clues.
4) Once more, i used the PEMPro viewer to recreate an approximated raw/unguided curve based on the commands sent.
This showed relatively massive drift ( 20 arcsec/min )
I then removed the drift to get the second plot ( which is similar to what PHD viewer also shows )
What we see there is what appears to be a normal worm mount with 15arcsec pk-pk PE
( You can also "visually" see the period of the sinusoid matches the worm cycle axis at the top )
ie to all intents and purposes, it looks like the encoder wasnt working
Andrew Johansen Melbourne Australia
RAW tracking ( reverse engineered )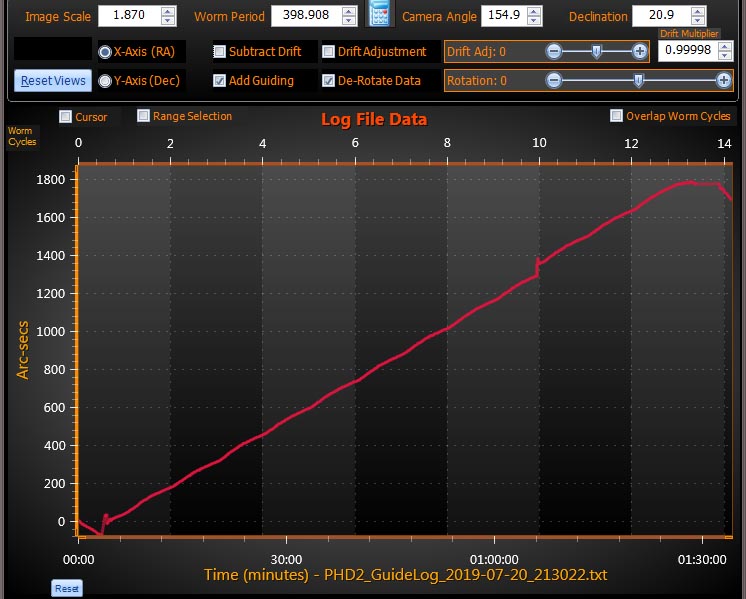 RAW tracking with drift removed