Two years ago (summer 2017) a handful of unfilmed P45 (white phosphor) MX10130 tubes appeared on the market care of Night Vision, Inc (Glynn Sziraki's company). These were the first P45 tubes that I had ever heard of for the PVS-7 bi-ocular NV housing. The batch of five tubes sold fairly quickly and since then no more have popped up on the market (as far as I'm aware).
But recently, during a phone call to NV Devices, I was told by Tim Snyder that the company had mistakenly purchased a batch of P45 Harris thin-filmed MX10130 tubes. The tubes are what NV Devices calls 'Mil Grade', not Mil Spec. They have about a dozen in stock and most are rated WHP+ (white high performance, i.e. PR>=2200, SNR>25, minimal dark spots).
I bought one two weeks ago and tried it out in a PVS-7B/D housing with a 5X prime Catadioptric objective. I was enough impressed with the view that I ordered a 2nd tube and just got it today. This one is equally impressive in a PVS-7A/C with a 3X prime objective.
One thing I've noticed with these tubes is that they produce sharper bright stars vs the latest shipping unfilmed tubes. The unflimed tubes show bright stars with more diffuse centers surrounded by a less transparent halo. The latest thin-film tubes maintain the look of sharp bright stars with more transparent halos.
Another nice feature of the new Harris tubes is that they have an upgraded auto-gating power supply that is now quiet, just like the L3 auto-gated supplies. The somewhat annoying high pitched whine is gone.
These new P45 10130 tubes have a part # of: F9410SLH. The 'H' in the part # refers to the new quiet auto-gated pwr supply (vs. 'G' in earlier tubes).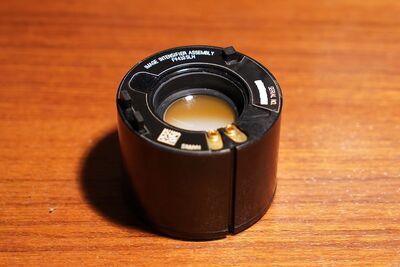 The price on these tubes from NV Devices is about $1K less than what the 2017 unfilmed batch were selling for at the time. So they are more affordable than those.
If you've been hoping to upgrade or try out a PVS-7 and you love white phosphor, this is your chance to get the NV system you've been waiting for.
Cheers, and happy shopping!
-J
Edited by jdbastro, 19 July 2019 - 03:06 AM.