Some great seeing here since the Sahara Heat Plume we had back in late June. Plus some fair to good transparency: the anticipated associated dust surprisingly pretty low-level.........
A goodly number of clear nights along with all that, but diverting busy days – so little time for posting some nice views......but here a simpler/plainer one from this morning's early rise.....
Uranus.........The planet showing a fairly distinct banded appearance. *Banded* being the collective term for belts & zones.......I reserve *striped* for non-celestials – zebras/butterflies etc. etc.
Recent apparitions I could not fully convince myself that the duskiness in the NPR was an actual NPC. Which, due to the increasingly tilting globe, we might expect to see as an increasingly more circular ellipse. Previous apparitions looking too limb-hugging for the respective globe-tilts for it to be to be an actual cap perhaps; even given the difficulties on such a small disk. This a.m. I became convinced of a lighter tone twixt the limb shading and a more surely elliptical duskiness very suggestive of being the actual NPC. Even so certainly too diffuse to match of that of Saturn, even allowing for Uranus' small disk. With a possibly somewhat less dusky diffuseness surrounding.
A suspected lighter part further 'south'; in what I figure is a NTZ is marked [intensity] '2?'. The suspected NPC 'fringe' is marked '3?'.
Looks like some fine – tho' hot – weather coming week........time to replace/renew the observatory (shed!) roof I guess. All the recent years of repair, starting to look like a patchwork quilt!
Dave.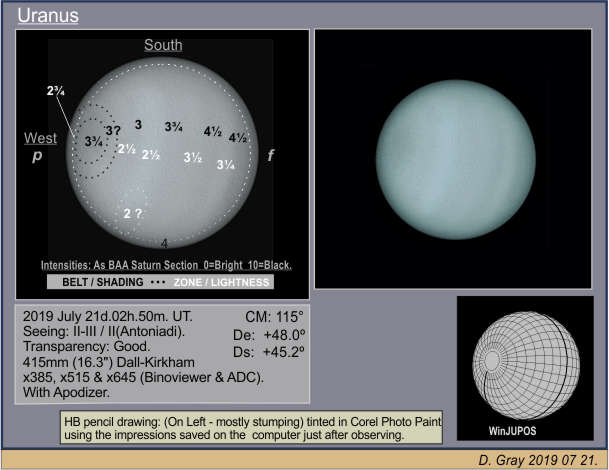 Edited by David Gray, 21 July 2019 - 08:58 AM.