I have re-configured my Rasa 11 for a wider field of view and Narrowband season. Prior to this reconfiguration, I simply had a ASI183MC-Cool OSC attached and was imaging galaxies at a scale of 0.8 "/px.
My re-configuration is a little more complex, and is going to be somewhat experimental. I recently had my A7S modified at full spectrum; my new system will look like this:
• RASA 11 / Starizona Filter Slider / Optolong L-Enhance / A7S @ 30s non-bulb exposures
• Back-mounted ASI183MM-Cool / Canon 200mm L @ F3.5 (front reduced aperture)
• Front-undermounted ASI290MC / Rokinon 300mm F6.3 with extending helical focuser
The RASA/A7S and 200mmL / ASI183MM-C FOV's are almost identical and so I plan to use the 200MML as supplemental data for straight L or HA as luminance, or SII. In addition, I'll use it to platesolve/frame via SGP.
I removed the heavy top D bar from the RASA and worked to mount a small V-Bar on the back portion of my RASA. This is where my 200mmL is mounted. I then front mounted a sliding D saddle underneath and incorporated the guide system to serve as dual purposes : 1) easy way to balance the DEC, and 2) Guide system.
My main imaging scales are:
• RASA/A7S 2.79 "/px
• 200L/ASI183MM 2.48 "/px
• Guide System (300mm Rokinon / ASI290) 1.99 "/PX
There isn't much of a difference between the weight of the large D bar that I removed and the addition of these two scopes attached. The 300mm Rokinon is the lightest lens I've ever seen, weighing only 0.68 lbs.
That's what I have so far, I look forward to giving this rig a first light when it clears up. Comments are welcome, curious what suggestions others might have or think of my guiding / imaging scales.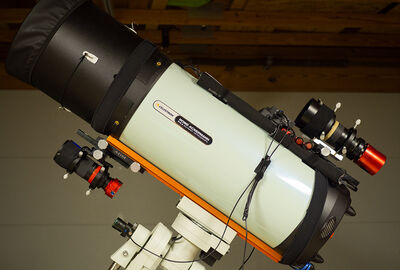 Edited by Churmey, 21 July 2019 - 01:58 PM.