Total integration: 960 minutes/16 hours (20+10 x 6m for S2 + 61+20 x 6m for Ha + 34+15 x 6m for O3).
Camera: QHY163M (16mp mono) CMOS cooled to -15 degrees C.
Telescope: Stellarvue SV70T triplet apochromat refractor @ f/4.8.
Reducer: SFFR70-APO
Mount: Paramount MyT.
Filters: Astrodon 5nm Ha, 3nm O3, 3nm S2.
Software: Sharpcap, PixInsight, Photoshop CC.
Inline image with reduced quality uploaded to forum. Full sized higher resolution image is here: http://ram.org/image..._34 15x360s.jpg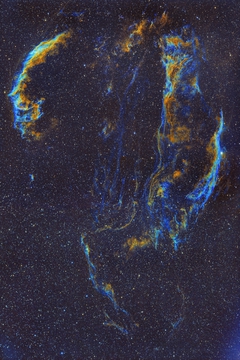 The Veil nebula and regions within located in the Cygnus constellation are known by many names, including Filamentary, Cirrus, Network, and Witch's Broom. This capture is my first attempt at creating a (two panel narrowband) mosaic and perhaps my last since after doing this I feel I should stick to my general philosophy of using the right sensor/reducer/OTA combination for the right target (though the North America nebula beckons and I don't see how I can get it to fit in a single panel unless I switch to using camera lenses). It was a PITA to get the brightness and noise levels of the panels matched up properly and also bring out the faint wispy details while imaging during moonlight though I learnt a lot about PixInsight doing this.
This was an interesting target for many reasons, beyond my two panel struggle. The Ha areas largely over encompass the O3 and S2 regions, but both of these also have very strong signal and if I had done an image excluding Ha it would've looked rather similar (except for the very faint bits prominent only in Ha. The S3 overlap is near 100% with the other two elements and if I hadn't brought down the Ha (which is still overwhelming) there would've been a lot of white as a result of the RGB combination. I chose to find a balance between choosing a post processing scheme that aesthetically looked good from afar while also showing the details of the filaments but the Ha only image really shows how intricate the filament work is. IMO, these narrowband images take a lot of artistic license and are best appreciated in comparison to the monochromatic signal from the individual filters, particularly Ha.
Other versions (Ha, darker background with more subtle processing, and basic SHO without HP tweaks) are here:
https://www.astrobin.com/416486/B/ https://www.astrobin.com/416486/F/ https://www.astrobin.com/416486/G/
My plan is to repeat this with my OSC on the SV70T and by rotating the camera by 90 degrees I can get it to fit, which will a generate a colour image, and and then if possible I will create a merged SHO-RGB image by combining all of these captures.
As always, thanks for looking!
--Ram