Hi, All,
first, I'm sorry for my bad English; I'm not used to write in English.
We are a group of 13 Astrophotographers with different telescopes and cameras in a german Astroforum (Astrotreff) and have united our data of M64 in the beginning of 2019 to create a deeper image (and to show more details in M64; some more dust in the arms) as one image of each of us could do. ..Now we are 16 I think ...or more...
One of us, our best man in postprocessing, Ralf Burkart-Kreuels, has been succeeded in putting all data together to an already good result.
But this result (till May 2019) should be only an interim result!
The added image is the result of about 120h of exposure. It's depth is actually 24 to 24,5mag. and we see some dust in the arms.
The image has been Astrophoto of the week in the german Astronomie forum. This is the link to the image of the week, with a better image resolution, I hope (I'm sorry in german):
https://forum.astron...peridee.275849/
The postprocessing of these different Data is rather difficult!
Now in July we have actually about 150h of exposure data.
Our aim is to participate in the competition "Astrophotographer of the Year in Greenwich in March 2020 (or maybe APOD? if we have good luck

).
So we need further data to go deeper and show more dust in the arms. The IFN is'nt seen, too.
In the image is still some noise, so that further data can be added better, Ralf hopes.
If You like to join us and give us Your stacked RAW-Files in .tif (without gradient reduction, noise reduction or sharpening) of M64, You got in the past, Your names would be named in the end result (if You want) and You could use all the already existing data, to process the image Yourselfes (and You can compare Your result with Ralf's result and contact him).
Our man here for the organisation of the data is Piotr (in Hamburg, Germany).
His E-mail-adress is: info@pk-photos.de
He gives You the password, with which You can use all the data.
The link for the password is: https://pk-photos.de...ftsprojekt-m64/
If You send the link to Google, Dropbox, etc. (where Your data are) to him, it would be good, if this link is released!
Moreover it would be fine, if You can tell him the date of exposure, the telescope, focal length, camera, filter and the whole exposure time.
Thanks for this lot of reading
Andreas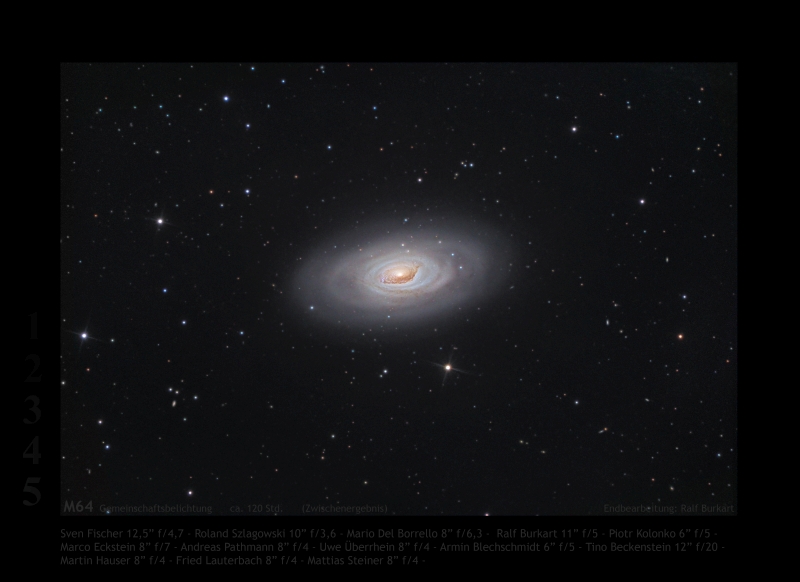 Edited by hobbyknipser, 24 July 2019 - 11:26 AM.