I caught sight somewhere on here recently of some speculation about Jupiter's moons and how they turn to bright disks passing over the planet's dusky limb regions. The speculation being that the adjacent black sky being a strong factor in the effect. Not so....in fact black sky is more contrast-affecting the limbs to look lighter than they actually are. But our visual systems 'know' otherwise and that is demonstrated with the effect against the sunset-sky on the date reported here. No contrast-aiding black sky; having also seen that ingress/egress-effect in a mid-day sky a couple of times. What is also apparent with those limb/satellite events is that the limbs are actually a good deal darker than even the NEB......!
Galileans: The start of the session was the classic near-sunset very steady sky......becoming very steady for about 40 minutes, then more jittery as the temperature noticeably drops.
It was during that tremulous air that the satellites where fitfully showing much better defined disks with good snatches of –albeit faint – detail. Seen that effect a number times this and last apparition; so decided to see what was detectable. Seemingly due to good number of seeing cells larger than the disks of those moons; perhaps manifesting with an average frequency of half to one second.
Other times I've experienced similar I also gave attention to Jupiter itself where confining my more than usual attention to such as those small SST-ovals allowed some localized rendering even though overall the planet might seem a mess and confounding the less practiced. Not talking here about what we do anyway to deal with seeing vagaries; but here we confine to the desired localized object disregarding the rest.....unless the seeing settles more!
Saturn: after the Galileans the seeing was settling to a lot less tremulous and possibly my best view this apparition. Again I caught a light seeming oval nestled twixt EB & NEB(S); a different longitude (f. end) CM I 330º one in May being CMI 190º (p. end). There may be at least three around the planet in that EZ(N) latitude not sure till I can check my records more fully.
NPC: not that I've ever distinctly defined, more inferred, the visually difficult Hexagon shape but this has all but escaped me recent apparitions; however this occasion there was a 'flatness' to it with a darker intensification that suggested seeing one of the vertices on the leading edge.
All in all yet another good night in the lower sky as the ADC + Apodizer played their part as before.....Dave.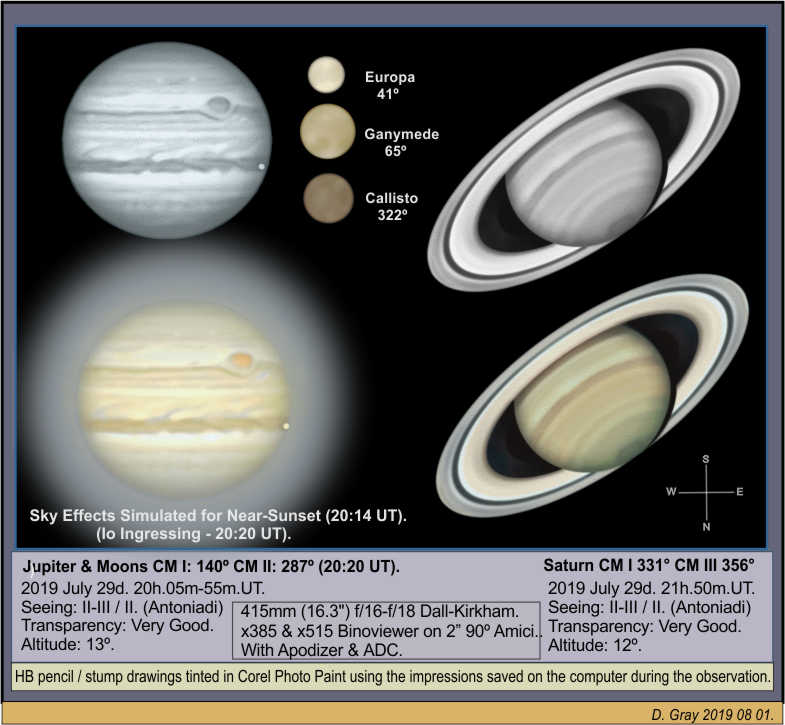 Edited by David Gray, 01 August 2019 - 03:02 PM.