Most of the time, I now use my converted Nikon microscope binoviewer. Reason being it is smaller and lighter than the Astromania/Arctutus. I'll be giving the Arcturus to one of my sons who is interested in Astronomy. The mount I have is good, but not totally devoid of moment-arm swing, so I have to keep the weight at the ends to a minimum.
The IPD on the Nikon is 56mm.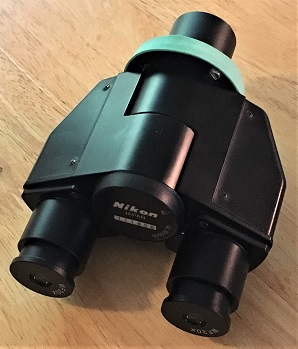 The nosepiece is converted to standard 1.25" and accepts filter threads and several barlow attachments directly. I have a Burgess 1.8x and a William Optics 2x. They are close but do give different amplifications.
The Nikon, does, however use microscope eyepieces. They work very well though. I have 10x (25mm), 16X (16mm) and 20x (12.5mm). The eyepiece holders are spring loaded to keep the eyepieces in the tubes.
And I have the nosepiece from a 3x Shorty Barlow that attaches to the front also. But I think it exceeds 3x.
Last night I took out the Celestron 100 ED for a look at Jupiter and the moon. I bought it used about a month ago. It is 100mm, f/9 ED glass, though the specs say 102mm, f/8.8.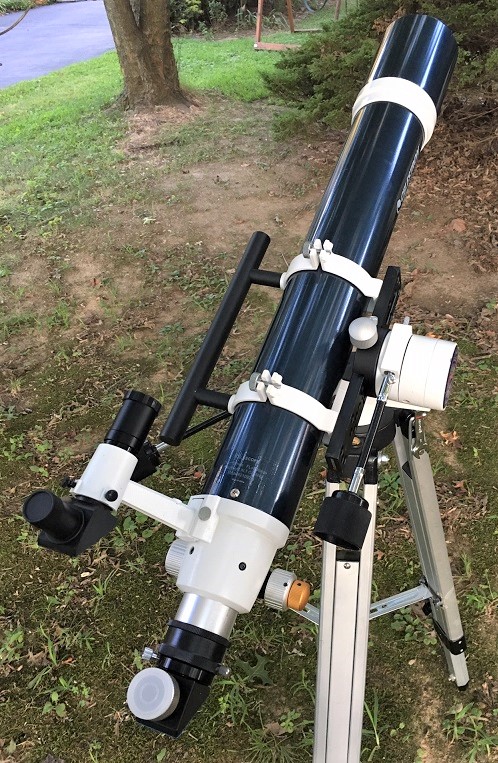 I got the handle from Amazon and it fits nicely on the saddle for when I carry the scope around.
Seeing was, at times, about 5-6/10. At other times it was boiling all over the place. But when it was good I had great views of Jupiter seeing a wealth of detail. As I was observing it, the GRS swung around the limb and was visible. It was vivid red while the rest of the planet was mostly muted colors and grays.
I saw festoons off the NEB and three white oval storms. Really good views.
Then I went over to the moon. The boiling seemed somewhat worse than on Jupiter, but the detail was very sharp. Seeing craterlets on the floor of Plato is difficult from here. But last night they were there, no doubt. And the images were steady, not popping in and out with seeing. That has to be the most definitive view of the craterlets on Plato's floor I've had. I counted 3 definites and a couple more fleetings.
No doubt the binoviewers make a dramatic difference, at least to me.
A few nights ago I took a look as Saturn and had the same great view. There were definite color bands on the disk and the rings were sharp. You could drive a truck through the Cassini division, it was so prominent.
So, I'm looking forward to a few years down the road when both Jupiter and Saturn, and Mars, are higher off the horizon. That is going to be something to see with the BVer.