That would be convenient. I have a very nice Baader zoom MK III, given as a very kind gift. I hope someday to find another at a reasonable cost and be able to afford it. Two of those would be nice to look through.

The only hesitation I would have is weight. but it might not add that much to make a difference.

In the meantime I keep my Astromania (Arcturus) binoviewer in a Pelican 1200 case I've had. It isn't huge, which is actually good, and the 1200s are relatively inexpensive as compared to the larger sizes. Plus there are sources to replace the foam insert.

BV case outside.jpg

Inside, I have the binoviewer, eyepieces and several Barlow nose-piece attachments.

BV case inside.jpg

Up in the RH corner are the two nose-pieces that came with the binoviewer, the 3x and the 1.85x, and also a Burgess 1.9x nose-piece, which are very inexpensive but work well. Over sitting with the BVer is a William Optics 2x nose-piece. Also a very nice lens.

Of course the 1.85x, the 1.9x and the 2x are redundant, but the actual magnification actually varies somewhat. Also, the back-focus distance is a little different with each. So I have to decide which one is best and use it with the others.

The eyepieces are all straight barrel types. The 32mm Plossls came with the binoviewer and are nice to use for low power. All the other Plossls are Meade Series 4000 Super Plossls, that again have the straight barrel.

These are very good eyepieces, have a decent FOV and at the FLs I have, 12.4mm, 15mm and 26mm, the eye relief is not nearly as bad as the shorter ones.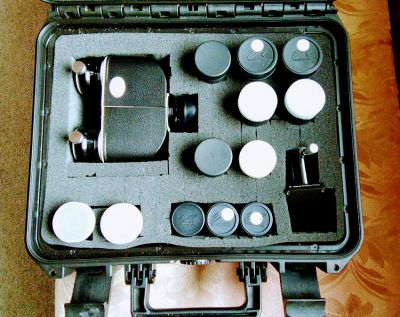 Nice case Joe!