Date: Thursday 1st August 2019. 2310-0310am
Scope: 20" f3.6 Lukehurst Dob with Paracorr (fl = 2089mm & f4.1).
Night Vision: PVS-14 with Photonis 4g INTENS.
Eyepieces: Plossl 55mm (f2 x38).
Filters: Chroma 5nm Ha filter.
At last a chance to get outside.
After almost a whole month of no observing

, the sky was unexpectedly clear all evening and I got all my kit out ready to head outside once it got dark enough.
After reading Televue's post on how best to setup the 55mm Plossl with Paracorr2 to get decent results, I was keen to get outside and see for myself.
I had a hit list of new-to-me Sharpless objects that I would be aiming for at the appropriate time during the night too.
Its 2300 and its "dark enough"…
By 2300, Jupiter and the main night sky stars were clear enough against a reasonable dark blue sky that I decided to get setup and ready to go. And the best news was that absolutely no clouds could be seen at all.
Fifteen minutes later I was setup and I had completed the 2-star alignment for my Nexus push-to unit that it connected to Sky Safari 5 on my iPad.
Time to test out the 55mm Plossl and new Paracorr2 settings.
According to Televue, to get the best from the 55mm Plossl and Paracorr2 combination, you need to add an EBX-2120 barrel extender to the Plossl, set the Paracorr2 in position "A" and just put the eyepiece into the Paracorr2 until it is level with the top of the tuneable top of the Paracorr2 – so that's what I did!
I added the Chroma 5nm Ha filter to the bottom of the Paracorr2 and attached my PVS-14 night vision device to the Dioptrx top of the Plossl via the TNVC adapter.
I focused the eyepiece and was pleased to see some nice sharp stars in the FOV. The outer 10-20% of the FOV were still fuzzy but I would say "less so" than with my previous Paracorr2 settings used. My scope is f3.6 and this is really pushing the old Plossl to its limits! (But I have to use it as it acts as a reducer when combined with night vision bringing my "effective" focal ratio down to f1.9 which means the night vision device is operating more within its normal parameters which practically means that I get to see "more nebula" than if I was using a slower "effective" speed.
And my new "larger" secondary mirror…
Over the summer I replaced the 104mm secondary, with an Orion Optics Hi-Lux coated 120mm secondary.
Previously, I had been unable to see all three mirror clips whilst collimating and with the long back-focus length needed by the 55mm Plossl, I wanted to increase the size of the secondary to compensate. Will I be able to see a noticeable improvement? Time will tell...
Right, onto the observing!
Sh2-86 - I started with sh2-86, which is a favourite of mine (nebula around the cluster NGC6820), the nebula was easily seen along with the black hydrogen "finger" pushing up from underneath. The finger was not the clearest that I have seen it, but it was not dark yet so noted to come back later...
Sh2-68 *NEW* - Next up was sh2-68 which was proved a toughie and I have finally tracked it down over a few nights of attempting to see it. Tonight, the extra darkness (compared to last month) tipped the balance and I soon had it centred. It looked like a small "cave" like shape with a star positioned at the tip.
Sh2-69 – Two double stars with a small patch in-between. The patch has a black area with a star within.
Sh2-70 – Triangle made of three spread-out bright stars. There is a patch in the centre of the triangle with two stars appearing inside it.
Sh2-72 – Large circular patch with a bright star on one edge. Black jaggedy lanes can be seen within.
Sh2-71 – Nice. A tiny bright "figure 8" shaped patch. One circle is brighter than the other.


Sh2-74 – A small faint patch near a double star. It appears as a central star with a patch around it. With time the patch extends up and right into a more oblong shape.
Time now 0000am.
Sh2-76 – Hard. A small patch with 2 stars inside. Patch sited above and between 2 stars.
Sh2-75 – Another hard one. Patch to right hand side of three stars. Another three stars below nearby. Found at star "WDS 19593+0703" in Sky Safari.
Sh2-79 – Nice. Large clear patch fills the fov. There is a star cluster inside. Appears Rosette-esque. Found at star "HD 231260".


Sh2-80 – Bright, tiny circle around a star. Found at AR010.
Sh2-82 – Bright indistinct patch. Small & easy.
Sh2-84 – Small curved shape. Faintish.
Sh2-83 – Tiny bright blob. Found at star "TYC 1612-0442-1".
Sh2-86/NGC6820 – Back for a revisit and now the nebula is bright and glowing. The finger is sharp and black (it appears to have a little piece breaking off to the right "thumb and finger")). The star cluster is set on a jet black background. The surrounding nebula is of varying brightness. There is a large black lane running up the LHS of the whole fov. This is a truly wonderful object!


Sh2-88 – Large patch, curved shape. Black curved lanes visible inside. Two tiny bright patches are seen of to the right hand side.
Sh2-87 – A mid-size faint patch near a star.
Sh2-90 – Nice. Bright double circled patch. The main patch is almost circular. With time a second fainter circle is seen to the side.


Sh2-89 – Right next to sh2-90. Small mid-brightness patch inside 4 stars. This seems to be the tip of a much larger fainter patch. Found at star "GSC 2148-0655".
Sh2-93 – Tiny bright curved patch. Easy.
Sh2-92 – Large bright patch. Part of a larger structure running down the sides.
Sh2-91 – Large area with nebula lanes running around in all directions.
Sh2-94 – More lanes passing through the fov. Any shape is hard to define.
Sh2-96 – Two almost parallel faint lanes. One more curvy than the other.
Sh2-95 – Tiny circular patch.
Sh2-97 – Faint. Mid-sized patch. Small brighter bit inside. Maybe some black lanes too.
Sh2-98 – Mid size circular patch seen next to a star. There is another fainter circular patch below [I found out from the internet that this second patch is a separate Supernova remnant]
Sh2-99 + sh2-100 + NGC6857 – A trio of small/tiny patches in a triangular formation. One is bright and round, one is mid size and elongated and the last is tiny and faint. Nice.


Sh2-101 Tulip – A large bright shape with two stars for eyes in black eye-sockets. It has a brighter leading edge. But my eye is drawn to a mass of nearby nebula below…
[ I move down and wow! I get lost in lanes of thick nebula covering a huge area. It contains occasional small black shapes that are sharply defined against the surrounding nebula background. There seems to be a whole new catalog of exciting nebula objects ripe for night vision for somebody to work through here!

]
Sh2-104 – Onwards and onto a small circular patch. A 3 star triangle seen inside.
Sh2-105 Crescent – Bright and wonderful. The fine detail is exquisite within the outer curving lanes as they jag in and out and so bright. I notice a small curvy question mark style section on the upper end (in the circular half of the crescent) that I have not noticed before. I spend some time on what is a wonderful object.


Sh2-106 – Three tiny patches. Brightest one is central, fainter ones on either side. I call this one the "Christmas cracker". Found at star SAO 070038.
Sh2-107 – A small faint patch next to a star.
Time 0125am.
By now, the Milky Way is wide a bright running overhead. I could see the two arms and black central Cygnus region clearly (even with my glasses off).
Sh2-108 – The SADR region. Wowsers, another breathtaking experience. The darker night sky is now paying dividends. This region is just wonderful. I linger and notice a "rabbits head" clearly seen in one of the brightest sections, right next to the "head of a lion cub" – so bright, almost white in the eyepiece. Every now and again you bump into the blackest fine details that stand out superbly against the white nebula background.


Sh2-103 Veil – Excellent. I pan around and spot and note all the familiar details. It's easier to add a map picture and just to say that I saw all of what is shown!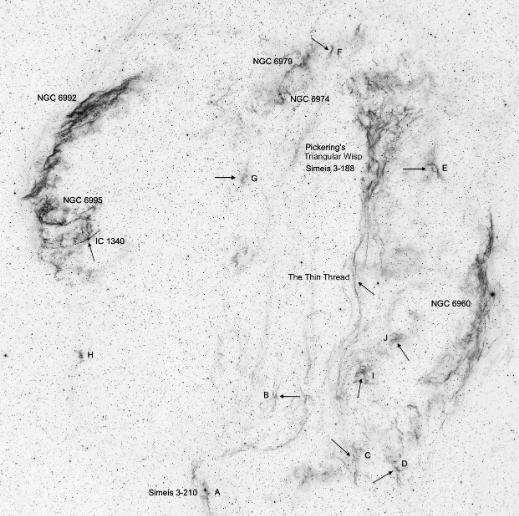 Sh2-122 *NEW* - I have had a few tries at this target during the summer and the results are consistent at least. You can find the outline and trace it over a larger than the fov area. There is a black divide that breaks in and across to cut off the bottom of the overall shape. One bright star is positioned to the mid LHS. So far it has been an underwhelming target but I will keep trying as it gets higher. Found at star "GSC 1166-0320".
Sh2-136 *NEW* - A small patch within a triangle of bright stars. One corner is a double star.
Sh2-138 *NEW* - A tiny bright dot next to a star (which is next to a brighter star at 8 o'clock position). Located at star "GSC 3995-1279".
Sh2-139 *NEW* - Near sh2-138. Triangle of bright stars in fov. Patch next to one of the three stars. Three small stars seen inside the patch.
Sh2-143 *NEW* - Located right above the Wizard nebula. Two stars with a patch around them. Central star and black area. Patch curves over the top. Brightest section is to the RHS of the right hand star.
Sh2-146 – Tiny bright patch, easily seen.
Sh2-144 *NEW* – Hard. A very faint patch can be found located next to three stars (in a right angle formation).
Sh2-145 *NEW* - From a bright star, I see a line of bright stars travelling down the LHS – the patch is brightest here (with a black "cave" like section at the end). The patch extends right and up. I see more black faint line details within the central section.
Sh2-147 *NEW* - Hard. This faint patch is located right next to the brighter sh2-148 & sh2-149. You have to look hard to spot the larger fainter patch just to the lower LHS!
By now, it was past 0300am and the sky was brightening as the Sun would soon be coming. I headed over to finish on IC1396 and had a good few minutes looking at a beautifully detailed Elephants Trunk and other nearby black patches located within the beautifully bright IC1396.
I had found 9 new (to me) Sharpless objects, which takes my tally to 298 of 313.
I was pleased with the bright images seen at the eyepiece - hopefully it was not just imagination and the combination of new larger secondary and correct Paracorr2 settings for the 55mm Plossl has made an improvement

I closed the shed roof and turned the lights on to reveal that that Dobs UTA was dripping wet with all the dew. I had to go fetch a towel to dry it off. I turned on the dehumidifier (for a few hours) before I left the shed.
I hope that I can still get more from these targets as we get in September and the return of the darker skies?
Hopefully you found something useful in the above?
Clear Skies,
Alan
Edited by alanjgreen, 02 August 2019 - 11:58 AM.