Hi,
I took good images on the 2nd and 3rd of august for sketching the planets.
Hereafter are:
saturn:
Here is a report of saturn performed under good conditions with the CC154mm with good to very good images.
Polar cap was seen dark (octogone not captured) surrounded by a thin dark band.
Then closed to, a thicker dark ring was there.
Then a clear belt surrounded with a thin dark ring and clos to a thick dark ring.
The EZ area was the clearer band on the disk.
The creep ring on the disk was seen greyish, this part didnot occult the planet disk sothat the edge of the planet was clearly seen.
Shadow on the ring, left of the disk was seen.
Cassini division was there thick at the anses and very thin on the ring at the meridian.
The creep ring was fully captured all around the ring.
A very good observation with regards to the sky conditions.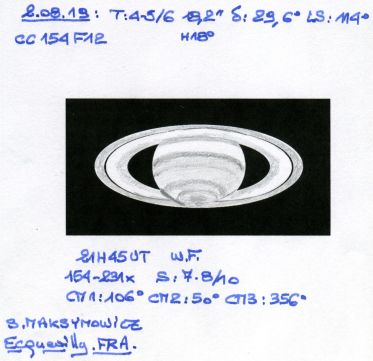 jupiter:
Here is a report of jupiter performed last 2nd aujust under good to average images with the CC154mm.
Possible to go a little deeper with very good images.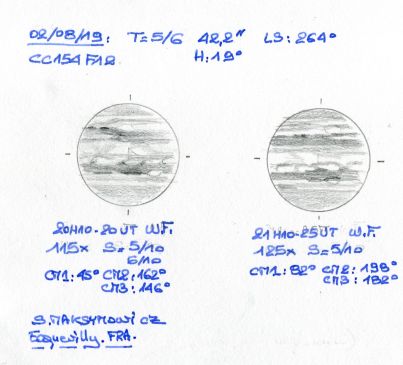 uranus:
Here is a report of uranus performed last 3rd august under average good images with the CC154mm and N254mm.
Still a darker pole than the surroundings.
The banding pattern is shown as per drawings.
The rings (2 rings) surrounding the cap were there, then rings set under and above the EZ were also there.
A clear patch was noted at the limb as shown.
The W8 filter was an obvious help for showing the pattern at final.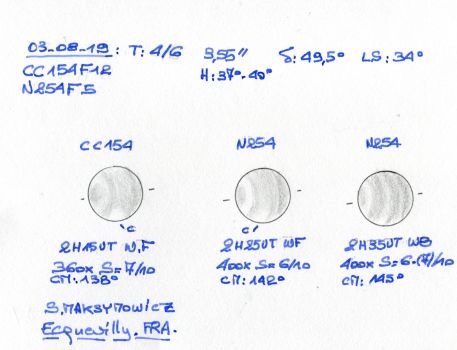 Jupiter and saturn was tests for the evaluation of the new CC154mm, not bad at final.
Will try later on uranus with a better night.
Faithfully
Stanislas-Jean